From December 27th, 2006, to January 1st,2007, more than 160 European celestial orchestra members came from more than ten European countries and gathered in Paris in groups to take part in collective training for the first time. It made its debut in public for the first time as the European Celestial Orchestra when it performed at the Paris Parade Festival.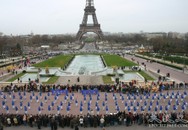 The Celestial Band by the Eiffel Tower
In the afternoon of January 1st, 2007, Paris Parade Festival activities were held in the square opposite the Eiffel Tower. The European Celestial Orchestra was the largest group among many performance groups, more that 160 people, from more than ten European countries, the age span from nine years old kids to a seventy year old man, it is also a band which was established within the shortest time, but gained the warmest welcome. After the performance, the director said loudly, "Thanks Falun Dafa!" Afterwards, practitioners performed many times for the audience and they were surrounded many people.
A practitioner who was standing on the lotus flower float demonstrating the Falun Gong exercises said that she clearly heard a Chinese person shouting very loudly: ''Thank you, thank you!'' Perhaps because of the many Chinese faces appearing in the band, this fellow felt a sense of pride.
| | |
| --- | --- |
| | |
| The band members say Happy New Year to Master Li | Many people are attracted to the sound of drumming |
The European Celestial Orchestra was formed only two months ago by volunteer Falun Gong practitioners from more than ten European countries and most them had hardly touched musical instruments before, let alone read musical staff notation, some of them only acquired musical instruments about ten days ago. Today the band is so popular, even practitioners themselves were moved to tears.
You are welcome to print and circulate all articles published on Clearharmony and their content, but please quote the source.