On September the 7th 2006, the European Parliament unanimously passed a resolution for a report of the EU-China relations, calling on the Chinese regime to release Falun Gong practitioner Bu Dongwei, lawyer Gao Zhisheng and other human rights defenders.
The resolution was initiated by Charles Tannock, spokesperson for Foreign Affairs in the European Parliament, Edward McMillan-Scott, Vice President of European Parliament, and Simon Coveney, member of Foreign Affairs Committee in the European Parliament.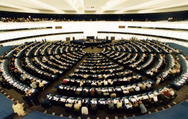 More than seven hundred members of the European Parliament are elected from 25 member states and represent 457 million citizens. (Photo source: Tilburg University website.)
The resolution states, "The European Parliament calls upon the Chinese authorities to reveal the whereabouts of human rights lawyer Gao Zhisheng, one of China's most outspoken lawyers and dissidents who is held on suspicion of criminal activity and to release him unless he is to be charged with a recognised criminal offence; similarly calls for the release of Chen Guangcheng, a peasants' rights advocate who has helped citizens in their attempts to sue their local authorities for carrying out forced abortions and sterilisations and who was sentenced to more than four years in prison, and of Bu Dongwei, who has been assigned to two and a half years of 'Re-education through Labour' (RTL) and who is detained at an undisclosed location; therefore urges the authorities to ensure that all human rights defenders can carry out peaceful and legitimate activities without fear of arbitrary arrest, torture or ill-treatment and that they be given access to proper legal representation in the event of arrest;"
"Strongly condemns the detention and torture of Falun Gong practitioners in prisons, "Re-education through Labour" camps, psychiatric hospitals and "legal education schools"; is concerned about reports that organs of detained Falun Gong practitioners have been removed and sold to hospitals; urges the Chinese Government to end the detention and torture of Falun Gong practitioners and to release them immediately;"

The resolution was a supplement to China's Human Rights report written by Hans Belder, a Dutch member of the European Parliament. The report criticizes China's human rights record and condemns China's interference in religious affairs though China's constitution stipulates freedom of belief. The report also expresses grim concern regarding torture and labour camps in China. European Parliament asked China to stop the death sentences and not to intimidate, persecute and imprison freedom activists.
The Beijing practitioner Bu Dongwei mentioned in the report was a staff member of the Beijing office of the U.S. Asia Foundation. He is a kind-hearted and sincere man. On May the 19th, seven police surrounded Mr. Bu's residence in Beijing and arrested him. He was sentenced to a two-and-half years' term in a labour camp for practising Falun Gong. His whereabouts is unknown.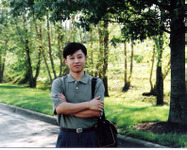 Beijing practitioner Bu Dongwei
Amnesty International called Mr. Bu as prisoner of conscience. In its press release on August the 29th "he was accused of 'resisting the implementation of national laws' and 'disturbing social order'. The evidence cited was a verbal confession he made to the police and eighty copies of Falun Gong literature that the police discovered in his home."
Amnesty International states, "Bu Dongwei had previously served a term of ten months' RTL from August 2000 to May 2001 in Tuanhe RTL facility for 'using a heretical organisation to disrupt the implementation of the law' after he petitioned the authorities asking them to review their ban on Falun Gong. During this period, he was reportedly subjected to torture and ill-treatment, including being made to sit all day in a small chair as well as beatings and sleep deprivation aimed at forcing him to renounce his belief in Falun Gong."
Radio Free Asia reported on August the 2nd that a spokesperson for Falun Gong in San Francisco, Sherry Zhang, pointed out when speaking to the reporter that Bu Dongwei was arrested for practising Falun Gong. Ms. Zhang pointed out that the CCP regime's arrest of Bu Dongwei is an act of completely violating the Chinese Constitution. The U.S. Asia Foundation is a non-governmental organisation focusing on education, women and legal issues in China. A member of such an organisation was arrested in China.
The European Parliament passed a bill on September the 7th calling on the European leaders not to remove the arms embargo to China before China's human rights condition is improved.
Chinese well known lawyer Gao Zhisheng is being persecuted by the CCP for speaking out for Falun Gong practitioners and other under privileged groups. After investigation of the persecution of Falun Gong practitioners, Mr. Gao wrote three open letters to Hu Jintao and Wen Jiabao, calling for an end to the persecution. His law office was forcefully closed. His whole family was put under surveillance by special agents and police. On August the 15th police arrested him in Shandong Province and detained him since then.
Edward McMillan-Scott, Vice President of European Parliament, made a special trip to Beijing to investigate the persecution of Falun Gong practitioners and the allegation of CCP's live organ removal. He met two Falun Gong practitioners, Cao Dong and Niu Jinping. Mr. Cao witnessed holes on the body of a practitioner after his organs were removed.
Mr. McMillan-Scott said in August in Australia that he planned to meet Mr. Gao in Beijing, but gave up the plan worrying about his safety. He talked with Mr. Gao for one and half hours over the phone later. Mr. McMillan-Scott made a round trip to Australia and New Zealand in August to expose the CCP's organ harvesting from living Falun Gong practitioners. On the same day after his arriving in Australia, Mr. Gao was arrested. Mr. McMillan-Scott said that arresting Mr. Gao is the CCP's reaction to the exposure of the CCP's live organ removal and to his trip to Australia to motivate further international investigation on the issue.
Mr. McMillan-Scott publicly declared his membership of the Coalition to Investigate the Persecution of Falun Gong (CIPFG) during a rally in Hong Kong supporting the thirteen million Chinese people that have quit the Chinese Communist party (CCP) and its affiliated organisations. The rally was held on the morning of August the 26th 2006. The rally was organised by The Epoch Times newspaper and the Service Centre for Quitting the CCP office in Hong Kong. Mr. McMillan-Scott also published a joint statement with members of the legislative council in Hong Kong, including Hon Chun-yan, calling on lawyers around the world to protest to their local Chinese Embassies and Consulates regarding the recent secret arrest and torture of renowned human rights lawyer Gao Zhisheng, and to urge the Chinese authorities to immediately release Mr. Gao.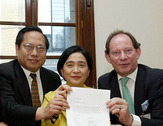 Edward McMillan-Scott (first from the right) and many members of the Legislative Council in Hong Kong including Hon Chun-yan (first from left) and Lau Wai-Hing (middle) signed a joint statement urging the CCP regime to pay attention to human rights
In his open letter to Mr. Gao, Mr. McMillan-Scott stated "The Chinese Government is, as always, inhuman, stubbornly biased, and doing everything at will."
During Mr. McMillan-Scott's visit, the Australian ruling party and the largest opposition party reached an agreement on an independent international investigation of the CCP's organ harvesting from living Falun Gong practitioners. On September the 4th the Swedish Christian Democratic Party, Leftist Party and Environmental Party released a joint declaration, "CCP must stop stealing organs", urging the Swedish government to take up a position with other countries in the European Union, Council of Europe, and UN to force the CCP regime to immediately allow investigation of all Falun Gong practitioners and other prisoners of conscience held in prisons, labour camps, detention centres, hospitals and mental facilities.


You are welcome to print and circulate all articles published on Clearharmony and their content, but please quote the source.