The European chorus tradition originated from churches. Haroldo Rodrigues leisurely started to talk to us. As a director of a European choir with choristers from fourteen countries, he was not eager to talk about his own choir. Instead, he started with the chorus, a traditional form of art in the west.
Originally only male voices were heard to sing together in churches; later female voices were added to the singing. Gradually, the singing developed into a composition of treble and bass voices sung by male and female choristers. Almost all the world-renowned composers of the western classical music regarded the church chorus as an important medium for their compositions. Particularly, we have to mention prominent composers during the Baroque period, such as George Philipp Telemann, Johann Sebastian Bach, George Friedrich Handel and the Austrian composers Joseph Haydn and Wolfgang Amadeus Mozart. During his life time Telemann had created over 1,400 church choruses. Bach is recognised as The Father of Church Music, his cantata as well as the Messiah by Handel, is a grand piece of religious music performed by singers and an orchestra to praise God's arrival in the human world. In the past three centuries they have been the indispensable compositions for Christmas in the Christian world.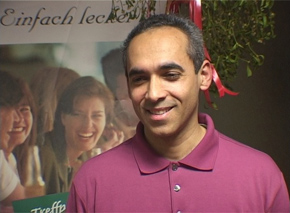 Haroldo Rodrigues, director of The European Coming for You choir
Haroldo finished his professional musical studies in his motherland Brazil. Then he was able to opt for his favourite occupation being a piano teacher and a director of a church choir. He even directed the masterpiece, Christmas Cantata and Messiah on stage. Nevertheless, he still longed to travel to Europe, the origin and thriving place of the western classical music. Following the steps of previous composers he yearned to explore the secrets of the everlasting masterpieces, to plant the most beautiful melodies in his mind and to look for his roots. In 1988 he arrived in Germany. During the Baroque period following the Renaissance western classical music had reached its prime. At that time many of the prominent composers did not have attachments to their own talents. Instead, they thanked God for giving them inspiration.
Handel had shut himself indoors to create the Messiah on August the 22nd 1741. It is a monumental work to praise the Saviour. During the process of creating the composition, he kept praising God for his inspiration. Totally he spent twenty four days to finish this grand masterpiece. It was said that when composing the music Hallelujah, Handel was often moved to tears, which soaked his manuscripts. Particularly when he was composing the Hallelujah, he once knelt down on the floor, crying out to the sky with both of his hands raised aloft; I see the gate of heaven opened. So touched was he that he gave up any idea of making money with this composition.
Haroldo had pursued his further studies on piano in the Handel Music School in Halle City, Handel's place of birth. Then he stayed at the school as a piano teacher. He together with his wife and their two cute daughters live in Leipzig 40 kms away from Halle City. The pipe organ with which Bach had performed music is still kept in St. Thomas Church in Leipzig. The Bach Music Festival annually held in May attracts thousands of music fans and tourists from all parts of the world.
Music speaks louder than words. In churches people express their mutual belief, their praise and worship of God by singing choruses. Most of the everlasting choruses express the same theme. When humans worship God with their innermost sincerity, God will pass beautiful music down to them. As a result, music composers and performers are required to elevate their spiritual levels and to correct their behaviour constantly. Only in this way can the profundity of music be created and expressed.
Of all the stories about these accomplished composers, Haroldo likes the story of Haydn most, the founder of the Classical Vienna School. One of his greatest dreams is to direct Haydn's chorus suite The Creation.
A friend paid a visit to Haydn and enquired about the secrets of his so many masterpieces. Haydn said, I am an early riser. After the attending to my personal hygiene the first thing I do is to pray to God for inspiration to create music. After I finish my breakfast, I seat myself at the piano and start to create musical notes naturally flowing down my fingers. When my inspiration was exhausted, I knelt down to pray, keeping reflecting on my defects. Not until I felt that God had forgiven me would I re-seat myself at the piano to continue with my creation.
It turns out that not only do Easterners have the idea of cultivation. In the process of creating music, western musicians had kept themselves in the state of cultivation. Two years ago, Haroldo was assigned to direct the European Coming for You choir, consisting of practitioners.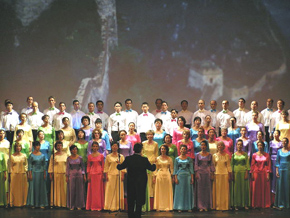 The European Coming For You Choir performed in NTDTV's 2004 Chinese New Year's Gala in New York.
A good soloist can not necessarily make himself a good chorister. As a chorister, he/she is required to make sure that his sound is correct and elegant. Furthermore, he must listen to the sound of his team and to naturally blend his sound with that of his team. The audience is thus presented with a harmonious sound. This produces the best result.
The European Coming For You Choir consists of choristers from Western Europe, Germany, Sweden, Switzerland, and Belgium. This year, there are new team members from Western Europe such as Czech and Russian. With various jobs and languages, and from different cultural backgrounds, how could the choristers achieve the excellence of their performance? For this reason, Haroldo paid a visit to The Lineless Choir in Central Germany in Leipzig. In the training place for the best professional choir in Europe, he learnt many organising and directing skills.
However, we are taking a different path, different from that of professional choirs. Each chorister is not only demanded to improve his artistry through frequent practise, but also to work hard to upgrade their morality. For instance, they have to abandon their self and learn to coordinate with the whole body, to show sympathetic attitudes toward others and to wholly contribute themselves to the audience. Only when each chorister reaches the state of mental purity can the power of the whole body be so strengthened as to sing the most harmonious choral music.
Mostly the choristers practise in their own home. In each country there are periodical meetings for group training. In addition, the choristers gather in Germany and Sweden for monthly training. Before each significant performance, all the choristers from all parts of Europe spend their own money gathering in one place for intensive training.
During the training session, the choristers were noticeably advancing their level each day. Each day I sensed such an amazing joy, as if it were given by God, Haroldo said with satisfaction. "In the few days following the end of each intensive training, the purer and purer harmony was echoing in my ears.
With diligence and self-reflection, the western choristers could learn to perfectly sing the Chinese lyrics in few days as if they had been aided by divine intervention. Two years ago, in NTDTV's 2004 Chinese New Year's Gala in New York, as soon as the choir started the performance with perfect Chinese, "Coming from far away," the audience was moved to tears. Two years later, the choir was invited again to perform in NTDTV's 2006 Chinese New Year's Gala in New York. Coming across the Atlantic Ocean, the choir is to participate in the joy of traditional Chinese New Year.
Haroldo is leaving for New York. Everybody is delighted to present beauty in the form of traditional European art to the western and eastern audience that will walk into the traditional Asian New Year. What kind of beauty is it? I asked Haroldo for more information since I could not go to New York to witness the choir's excellence.
"We sing to praise humanity and life, belief and morality, just as we sing in one song. We wish that virtue would last eternally. We wish that life would be fragrant forever." Haroldo stopped here, leaving the rest to the performance on the stage in Radio City Music Hall, Manhattan.
You are welcome to print and circulate all articles published on Clearharmony and their content, but please quote the source.