"Truthfulness Compassion and Forbearance," an international art exhibition, was held in National Hualien University of Education. It was the second stop of this touring exhibition in Hualien following the first session at Dong Hwa University.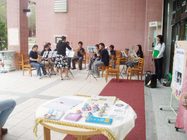 Music playing at opening ceremony (Introduction to art exhibition is on the table.)
The artwork of the exhibition was created by a group of distinguished artist of different backgrounds. They all practise Falun Dafa and have benefited from it. Using traditional painting skills, they display their experience and understanding of life in their bright and pure artwork. Viewers of the exhibition witnessed their pursuit of a beautiful union between the heavenly and human and felt bathed in a compassionate and peaceful field.
The art exhibition has traveled to many countries. In Taiwan, it has been held in many places and universities in Taipei, Taoyuan, Xinzhu, Miaosu, Taizhong, Zhanghua, Yunlin, Tainan, Gaoxiong, Pingdong, Yilan. It has received warm feedback.
The Calligraphy Organisation and Cartoon Association of National Hualien University of Education jointly sponsored the art exhibition during the 58th anniversary of the university. The opening ceremony was held in the library on Oct. 21st. The university's band played music at the ceremony. Mr. Lin Ruhan, Director of Student Life talked about Falun Dafa's teachings of Truthfulness, Compassion and Forbearance. Falun Gong is beneficial to people's nature, and is was a pleasure to host such high-level art at the university.
| | |
| --- | --- |
| | |
| Many people visit the art exhibition | Visitors appreciate artwork from different angels. |
Visitors were drawn into deep thought about the meaning of the artwork. A woman was so touched by the painting "Coming for You" that she had to take a picture of it. It was a painting showing thirty-six western Falun Gong practitioners from thirteen countries unfolding an eight-foot-long banner reading "Truthfulness-Compassion-Forbearance" on Tiananmen Square on Nov. 20th, 2001. They wanted to tell the true story of Falun Gong. The overwhelming golden light on the painting implies it was an important historical moment and focus of all attention in the universe.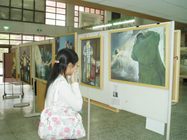 A woman is shocked by the brutality of the persecution
Falun Gong practitioner Mr. Li Jianhao told the exhibition visitors his own experience when he showed them the painting "Tiger Bench". He had demonstrated this torture method at an Anti-Torture Exhibition to expose the persecution in mainland China. Even though it was a simulation, it gave him great pain in his hips, waist and feet within an hour. He felt the misery that Falun Gong practitioners had been subjected to and realised how much compassion and forbearance they had shown facing the persecution. He hoped more kind people would lend a hand to help stop the persecution. Every signature is a strong voice calling for justice.
Professor Zhang Kairui said the National University of Education is a cradle of future teachers. This art exhibition leads students to think about what is the spirit of art, compassion, and being steadfast in the truth.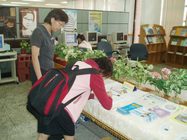 People sign their names to show their support and wish to stop the persecution
Professor Zhang said this exhibit provided a sharp contrast between mainland China and Taiwan. Many teachers and students in China have to leave their schools and homes under the overwhelming persecution. Teachers and students in Taiwan enjoy the freedom of practising Falun Gong. He hoped this art exhibition would raise awareness of the inhuman persecution of Falun Gong so that more people would help stop the CCP's persecution of innocent Falun Gong practitioners.
You are welcome to print and circulate all articles published on Clearharmony and their content, but please quote the source.