To eliminate interference from the Macao Police, who obstructed practitioners from holding public photo displays with the false charge of "blocking traffic," Dafa practitioners submitted an open letter to the police chief on March 16, calling on the Macao Police to observe Macao laws and the International Covenant on Human Rights. Practitioners urged the police to treat practitioners' activities fairly and to resolve its first division's unfounded charge of "blocking traffic" against practitioners.
Because the police did not respond to the practitioners' appeal and the issue was not resolved, around 3:30 p.m. on April 20, 2005, practitioners went to the City Police Department again to submit another open letter to the police chief, calling for immediate action. When practitioners were taking a photo as a record of this appeal, the director of the police department happened to pass by. A practitioner told him, "We have come to deliver an open letter." An assistant of the director then accepted the letter.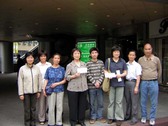 Practitioners who went to deliver an open letter to Police Chief took a photo in front of the Macao Police Department
Practitioners sincerely hope that the Macao Police will follow proper procedures to resolve this issue fairly and as soon as possible, so that practitioners can hold photo displays, distribute fliers and expose the persecution to the public, just as they have been doing for the past 5 years.
You are welcome to print and circulate all articles published on Clearharmony and their content, but please quote the source.