On March 21, 2005, The "Truthfulness, Compassion, Forbearance" International Art Exhibition opened in the capital of Saipan in the Northern Mariana Islands. The exhibition received support from the Culture and Art Gallery, the Ministry of Culture and the National Foundation of Art Associations of CNMI (Commonwealth of the Northern Mariana Islands), the government and American Phoenix Art Company. Over forty paintings by Falun Gong practitioners from many countries were exhibited together in the CNMI Government's Art Gallery.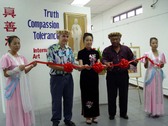 Cutting the ribbon to open the exhibition
An official from the Internal Affairs Department of the United States, the Secretary of the Viceroy and Minister of Culture, Mr. Juan Babauta, and one of the directors of the CNMI Art Association, Mr. Angel, attended the opening ceremony.
The painting of the mother and her baby son who were persecuted to death, shown in the painting "Golden Lotus," and the image of the little girl in "Homeless" made a strong impression on Mr. Babauta. He said he was very upset about those innocent people suffering from the persecution. He also praised the peacefulness of the exhibition. Even though there were many paintings depicting torture scenes, he still felt the power of compassion present in the artworks.
A policeman who loves art viewed the exhibit, and said he enjoyed the purity of the traditional painting and exquisite style. He also said he felt sad and upset about the behaviour of some of the Chinese policemen shown in the paintings.
Reporters from two media outlets interviewed the director of the Art Association, Mr. Angel. Mr. Angel said that the paintings in the exhibition reflected the principles of "Truthfulness, Compassion, Forbearance." He said that the exhibit was very good and definitely worth a visit. He believed that there would be more visitors in the coming days. Besides his support of the artists' effort, he added that the exhibition gave him a deeper understanding of the cruelty of the persecution in China.
Visitors view the paintings
Many visitors were moved by the paintings and took photos. A CNMI local TV station broadcast the opening ceremony at 7 a.m. and interviewed two practitioners. The practitioners gave a detailed introduction to the exhibition and answered questions about Falun Gong. One of the interviewees was a painter who had several paintings in the exhibition.
Two days ago, the Northern Mariana Daily reported on the art exhibit and published a second article with an interview of one of the painters. Another newspaper interviewed practitioners at a group practise site at the beach and took photos. Both newspapers published positive stories on Falun Dafa.
You are welcome to print and circulate all articles published on Clearharmony and their content, but please quote the source.