Monday March 21, 2005
A traveling art exhibition featuring artists from all over the world, including a former Saipan resident, will open in the CNMI Arts Gallery on Capitol Hill today.
"Truth, Compassion, Tolerance" is a collection of 40 pieces of painting and sculpture by over 15 artists including seven pieces by painter Michelle Chen, who has lived on Saipan for nine years.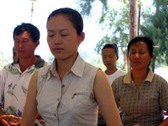 Artist Michelle Chen and other Falun Gong practitioners practicing Falun Gong at seashore
The exhibit explores the brutal persecution of Falun Dafa practitioners in China. It has been shown in about 20 locations such as New York and Washington, D.C. in the United States; Toronto, Canada; Jakarta, Indonesia; Seoul, Suwon, and Daegu in Korea; Australia; and New Zealand.
"We've decided to bring it to Saipan because I lived and have a lot of friends here," 33-year-old Chen said.
Chen, who has learned traditional Chinese painting and calligraphy in China, came to Saipan as a student in 1992 and went on to spend nine years on island. She now lives and does her paintings in Canada and is also the art director of Community Arts Council of Richmond, BC.
Chen's work has been recognized in China and in the CNMI. She was the recipient of the Governor's Award for Most Outstanding Visual Artist in 1998. Verizon used her works for its phone cards and marketing materials in 2000. Her paintings have also been reproduced as post cards, which are sold at many CNMI establishments.
A Falun Dafa practitioner since 1999, Chen expressed belief that it is her duty as an artist to show truth in her works.
"We, the artists participating in this exhibit, are trying to spread the word about the torture and other brutalities being committed against Falun Dafa practitioners in China. The Chinese government has all the resources to conduct propaganda. They control everything. We have only our fellow practitioners and our art," Chen said.
The exhibit, however, is a must-see not only for its message, but also the technical skill manifested in the paintings.
The works include oil paintings, pen and ink drawings, pastel drawings, and sculpture that were mostly created using a realist approach that captures the subject matter of suffering. The paintings, at the same time, feature metaphysical themes, bearing images of demons and deities, gods, Buddhas, and Taos.
The exhibit will be opened with a ceremony at 4:30pm today and will run until April 9. It will also be shown at the Flame Tree Arts Festival at the American Memorial Park from April 15 to April 17.
Source:http://www.saipantribune.com/archives/newsstorysearch.aspx?cat=1&newsID=45619&issID=1920&archdte=3/21/2005%2012:00:00%20AM
You are welcome to print and circulate all articles published on Clearharmony and their content, but please quote the source.