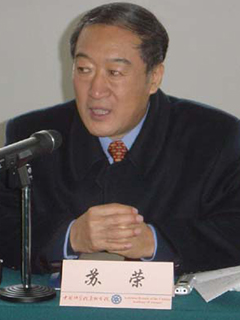 The Zambian High Court issued an arrest warrant for Gansu Provincial Committee Secretary Su Rong after he failed to answer to charges of murder and torture of Falun Gong practitioners.
LONDON [EFGIC] – The High Court of Zambia issued an official arrest warrant and dispatched police to search for a Chinese official held in contempt of court after being charged with the murder of Falun Gong practitioners.
Su Rong, the former head of Jilin Province's "6-10 Office" and current Gansu Province Communist Party Secretary, was part of a Chinese delegation that was travelling to several African nations. Upon his arrival in Zambia on November 4, individual plaintiffs filed a civil lawsuit charging him with accounts of murder, torture, and degrading treatment of Falun Gong practitioners.
That afternoon a Zambian High Court Marshall served defendant Su with the court papers. The next day, the court ordered that Su must remain in the country pending a hearing on November 8. The Zambia border authority was notified of the court order.
After defendant Su failed to appear in court, a hearing date was set for November 13. Su was charged with "Contempt of Court," a criminal offense under Zambian law, which follows the British tradition.
When Su once again failed to appear, the Court issued an arrest warrant and dispatched forces to search for him.
Zambia border authority records indicate that the defendant is still in the country, although sources working on the case in Zambia say Su has already "snuck out of the country." According to these sources, Su told his counsel that he will never leave China again.
Su had been in charge of Jilin's "6-10 Office," a plain-clothes police task force responsible for the arrest and brainwashing of Falun Gong practitioners. The deaths of at least 139 Falun Gong practitioners from state abuse have been verified in Jilin, making it the second most notorious province in China behind Heilongjiang's 158 deaths.
Su's case is the latest in a series of 50 lawsuits served against Chinese officials for persecuting and defaming Falun Gong. (full list)
This is the second African case, the first being in Tanzania, where former Minister of Education Chen Zhili was sued in early August. Chen attended a court hearing before fleeing the country.
In most cases against visiting Chinese delegates, the defendants have typically immediately fled the country without denying the charges.
# # #
NEWS– Nov.19, 2004
European Falun Gong Information Centre, More contacts. www.clearharmony.net
Background
Falun Gong, also known as Falun Dafa (about), is a practice of meditation and exercises with teachings based on the universal principle of "Truthfulness-Compassion-Tolerance." Practised in over 60 countries world-wide, Falun Gong has roots in traditional Chinese culture. With government estimates of as many as 100 million practising Falun Gong in China, China's then-Communist leader, Jiang Zemin, outlawed the peaceful practice in July 1999 (report). Since that time, Jiang's regime has intensified its propaganda campaign to turn public opinion against the practice while imprisoning, torturing and even murdering those who practise it. The European Falun Gong Information Centre has verified details of 1122 deaths (reports) since the persecution of Falun Gong in China began in 1999. In October 2001, however, Government officials inside China reported that the actual death toll was well over 1,600. Expert sources now estimate that figure to be much higher. Hundreds of thousands have been detained, with more than 100,000 being sentenced to forced labour camps, typically without trial.

FOR MORE INFORMATION, PLEASE CONTACT THE EUROPEAN FALUN GONG INFORMATION CENTRE – Peter Jauhal + 44 (0) 7739 172 452 Nicolas Schols +32 47 98 75 734
More contacts. www.clearharmony.net Email: europe@falungonginfo.net
You are welcome to print and circulate all articles published on Clearharmony and their content, but please quote the source.