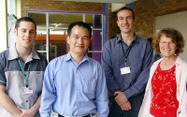 David Liang and Psychological Sociologist Robinson (second from the right) and an intern physician (first from the left) at Chris Hani Baragwanath Hospital.
On June 28th, 2004, several Australian Falun Gong practitioners arrived in Johannesburg, South Africa to raise awareness of the persecution of Falun Gong in China during the visit of Chinese Deputy President Zeng Qinghong. On their way to the Capital City, Pretoria, they were attacked by gunmen in a drive-by shooting. This obvious attack by the Jiang faction's hired gunmen drew worldwide attention to the persecution of Falun Gong. Practitioner David Liang had both feet severely injured in the attack.
According to a report from the news website, The Epoch Times, David Liang recently returned to South Africa. His amazing recovery in just three months, without any major medical treatment, caused a sensation in society.
David Liang, a Chinese-Australian Falun Gong practitioner was shot in both feet on June 28th. He was taken to hospital for immediate treatment of the wounds and subsequently released. After he went back to Australia, Mr Liang refused to have an amputation or skin transplants as suggested by some surgeons, and instead, he chose to stay at home to recuperate. During three months of recuperation at home, except for practising Falun Gong every day, he did not take any other treatment. Now, David is able to walk without the help of crutches. In addition, he is also able to drive short distances. On October 17th, David returned to South Africa.
More than 10 media outlets in South Africa reported on the shooting incident, which received broad attention from all levels of society.
| | |
| --- | --- |
| | |
| David Liang being interviewed by the Sowetan | David Liang being interviewed by the Sowetan; reporters are amazed by his remarkable recovery |
| | |
| Anchor from Jozi FM Radio Station (on the left) encourages David to keep practising Falun Gong and wishes him a complete recovery soon. He also encourages him to have the true attacker brought to justice as soon as possible | David Liang being interviewed by Jozi FM, the most influential radio station in the Black people's district |
"The reason why I came back to South Africa is to express my gratitude to the people of South Africa who helped and supported me after the attack. I would like to share with people here the miracle of my being able to walk again in just three months through practising Falun Gong. I would like to share with people the beauty of Falun Dafa," said David Liang.
"I did not take the hospital's suggestion of having an amputation. My right foot was shot through and consequently I had a golf-ball-size hole in my right ankle. The bones around the hole were all smashed. Even the best medical doctors in the world would have been unable to completely restore those fractured bones. Except for having an amputation, the doctors did not have any better suggestions. I didn't want to be permanently disabled. On the other hand, I know that numerous miracles have occurred among people who practise Falun Gong. Previously in China, many Falun Gong practitioners encountered car accidents or other types of incidents and their wounds and injuries were much more severe than mine. They quickly recovered through persistent practise of Falun Gong. Therefore, I was very confident that a similar miracle would also happen to me."
David Liang's amazing recovery drew great interest from society. The surgeon from Chris Hani Baragwanath Hospital, the largest hospital in South Africa, who was the first doctor on David Liang's case, was very excited. He considered David's recovery an unbelievable phenomenon in medicine. He thanked David for coming back and sharing with him this news, and he set up an appointment with David to specifically discuss his recovery.
Mr Robinson, Psychiatric Sociologist for the hospital, said that the psychiatric affect on physical health was really an important topic. With his firm belief in Falun Gong and his persistent practise, David Liang miraculously recovered from a potentially devastating injury. This once again demonstrated that one's mental state could tremendously affect one's physical health. Mr Robinson is very interested in conducting research on Falun Gong, to explore how it can fundamentally improve one's mental and physical health.
Mr Robinson and an intern physician decided to set up a Falun Gong practise site at the hospital and requested assistance from local Falun Gong practitioners in South Africa.
Local people who attended the introduction to Falun Gong develop great confidence in the practise upon hearing of David's miraculous recovery
Practising Falun Gong with students at the University of Witswaterand
One of the most influential newspapers in South Africa, the Sowetan, reported on David's story in a top news story entitled, "Chinese Man Recovers Without Treatment." The report compared diagnoses from two major hospitals, one from South Africa and another from Australia, with David's current situation, and validated the remarkable healing and fitness effect of Falun Gong. The report also confirmed that the hospital where David was hospitalised requested assistance from the practise of Falun Gong in the prevention and treatment of AIDS.
The most important radio station in South Africa among the Black population, Jozi FM, conducted a live interview with David regarding his return to South Africa. In the afternoon of the same day, a number of people went to the Soweto Falun Gong practise sites upon hearing the story on the radio. After witnessing the miracle that occurred with David Liang, many people expressed their great confidence in Falun Gong. A spokesperson from Jozi FM said that he was very pleased that Chinese people came to Soweto to share such a wonderful experience with the local people. He hoped that Jozi FM, as the hub and platform for the exchange of community information, could play a more effective role in this regard. The radio station is currently considering setting up a special program to broadcast Falun Gong lectures at set times each week.
In Tanzania, a large-scale human rights convention was held at Dar es Salaam last weekend. The convention was organised to discuss human rights violations in the persecution of Falun Gong in China. Mr David Liang attended the convention as one of the main speakers.
You are welcome to print and circulate all articles published on Clearharmony and their content, but please quote the source.