According to a report in The Epoch Times, more than ten members of various German human rights organisations and several Falun Gong practitioners gathered at Frankfurt airport on September the 29th, waiting in excitement for their guest from Beijing. When the sliding door opened slowly, a Chinese woman with short hair and a round face pushed a baggage cart, walking towards the waiting crowd with a smile. After a fourteen hour flight, Xiong Wei returned to Germany, which she had missed for four years.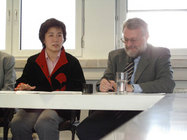 Xiong Wei visited the International Society for Human Rights (ISHR) and spoke about the persecution she has suffered in China. On her right is ISHR's chairman, Mr. Karl Hafen.
Final success for a rescue that lasted two years and nine months
To many Germans, "Xiong Wei" is not an unfamiliar Chinese name. She is thirty-three years old now. She studied at the Technical University Berlin from 1993 to 1999. During this period of time, Xiong Wei started practising Falun Gong. She returned to China in 2000 and worked in the Beijing branch of a German company. Xiong Wei was arrested by plainclothes police on January the 5th 2002 because she distributed information about Falun Gong in Beijing. Later, she was sent to Beijing Women's Forced Labour Camp and detained there for two years.
After learning of Xiong Wei's arrest, The German International Society for Human Rights (ISHR) and German Falun Gong practitioners started their efforts to rescue her. They initiated signature collections and a series of activities, such as mailing postcards to the labour camp. With the help of the German government, non-governmental organisations and private individuals, Xiong Wei was released early this year. Nine months later, she arrived safely in Germany. Right after she got off the plane, she was invited to the Frankfurt headquarters of ISHR to express her thanks in person to the human rights warriors whose help has enabled her return to freedom. She described what had happened to her during the two year-long imprisonment.
'Sterilised chopsticks' are not actually sterilised
The slave labour in Beijing Women's Forced Labour Camp is still fresh in Xiong Wei's memory. The daily labour started at seven o'clock in the morning, and went on all the way until 10 o'clock in the evening. Quite often, they were forced to work overtime until midnight or even two o'clock in the morning. A type of work that they did very frequently is to package disposable chopsticks. They would need to take a small piece of paper and wrap it around the tips of the chopsticks. The printing on the paper read "Sterilised Chopsticks", however, no sterilisation was actually conducted on the chopsticks at all. A piece of damp cloth was used to cover a large stack of the paper. The cloth would come from various sources, it could have been used for wiping human feet or desks previously. "You can imagine how disgusting it is!"
Every person had his quota of work for the day, and sleep was not allowed if the quota was not completed. "Our basic speed is wrapping seven pairs of chopsticks in two seconds. The wrapping speed is so fast that nobody can perceive what their hands are doing."
Facts behind the painted wall
The original name of the Beijing Women's Forced Labour Camp was Tiantanghe or Xinan Labour Camp. Before the persecution of Falun Gong, only one hundred to two hundred people were imprisoned there. Most of the prisoners were involved in drug abuse or prostitution. After the suppression of Falun Gong began, the number of people increased rapidly from about one hundred as of July 2000 to nearly one thousand in April 2001.
In June 2003, a TV soap opera called 'Life is Innocent' was released under the name of "Department of Justice, China". This TV soap opera was jointly produced by the Legal Film Centre and Xian Dingma Film Production Company. It used the Beijing Women's Forced Labour Education Camp as the setting, and described how the police tried their best to "salvage" Falun Gong practitioners. In fact, the soap opera intended to slander Falun Gong, cover up the brutal persecution of the evil police in the camp, and fabricated falsehood to instigate public hatred against Falun Gong practitioners.
The pink buildings of the camp misled people that tenderness might exist there. In fact, what was going on was totally different. Those Falun Gong practitioners who refused conversion were subjected to physical torture. Xiong Wei gave an account of her personal experience, "After two weeks of repeated torture, my legs hurt so much that I could not stand up after using the restroom. Somebody had to pull me up. Without other's help, I had to hold onto something so that I could stand up."
In late November 2002, the atmosphere of the camp became nervous. The prisoners were asked to work on the improvement of the environment. Unprecedented, the guards moved over a lot of green plants to decorate the hallway and hung white lace curtains on the doors. The white lace curtains were hung only for two days until the foreign investigators had completed their inspection and left.
Continue the rescue until the persecution is brought to an end
Mr Carl Hafen, Chairman of the International Society for Human Rights, was pleased to hear the success of Xiong Wei's rescue. He said, "We have heard Xiong Wei's description of her personal experience in the forced labour camp in China. I am sure that she will provide more information about China's persecution of Falun Gong and what has been going on behind the scenes in China's labour camps. We hope these materials can be used to help more people who are persecuted in China." The next step of the International Society for Human Rights is to help a Chinese student, who is studying in Germany. His mother is currently imprisoned at the Beijing Women's Forced Labour Camp because she practises Falun Gong.
Caroline, a college student from Heidelberg, said it has been a wonderful experience to witness Xiong Wei's return to freedom after so much effort. Two years ago, she made a bicycle journey with two of her younger sisters from Heidelberg to the Chinese consulate in Bonne to petition for Xiong Wei's release. Along the journey, they contacted media and government officials to seek support. However, the persecution of Falun Gong in China is not over yet. Caroline said, "At least, I will continue to help those Falun Gong practitioners whose names are known to me so that they can regain freedom." Xiong Wei's sentiment is mixed with joy and worry. "Every time when it comes into my mind that I can continue my cultivation in a free environment, I feel very happy. However, I feel depressed about the fact that there are so many Falun Gong practitioners suffering in China." Her next step in Germany is "to do my best to allow as many people as possible understand the truth of Falun Gong and the extent of the persecution that Falun Gong has endured." She hopes "People can truly understand what Falun Gong is all about, and not believe the lies and rumours."
You are welcome to print and circulate all articles published on Clearharmony and their content, but please quote the source.