On the 16th of July, a group of Falun Gong practitioners from Northern England finished the 3rd "Car Tour" activity. Practitioners visited five different cities in Northern England. They promoted Falun Gong and let people know about the five-year campaign of Genocide that has been waged against the practice.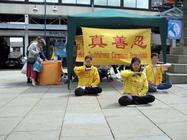 Demonstrating the exercises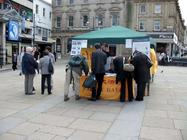 People sign a petition
Practitioners visited Leeds, Huddersfield, York, Middlesbrough and Darlington. In each of these cities they distributed leaflets, demonstrated the five sets of Falun Gong exercises and collected petition signatures to support the rescue of UK practitioners' friends or relatives who are suffering in Chinese prisons and labour camps because they practise Falun Gong. A separate group of practitioners visited the council and media to tell them about the persecution.
Some people did not need any encouragement to sign the petition forms and rushed to do so as soon as they looked at the posters exposing the persecution. Many were shocked by the torture and suppression depicted on the posters and could not believe that such a thing is happening in the world today.
Two young people stood in front of our exhibition stand for a long time. One of them said, "It is totally without reason, it is too crazy!" They said they could not understand how people can be persecuted for doing such peaceful exercises. They came to ask practitioners for more information that they can distribute to let others know about this persecution.
There were also many Chinese people who came to know the truth. Two Chinese ladies came to our exhibition stand and accepted some information. However, one of them did not know the truth of the persecution. Due to the rumours and propaganda of the state-controlled media in Mainland China she had developed some misunderstandings. A practitioner told her the truth about what is happening in China. Her friend was already aware of the persecution and said to her, "If you practise Falun Gong in China, the neighbourhood committee, local police station and neighbours will all watch on your every move." After discovering the truth, she said good bye to practitioners with a smile. There were also people asking about the details of free local Falun Gong exercise classes. Some of them even started to learn the exercises immediately.
The practitioners who visited the media and local council felt that this was an effective approach. The Huddersfield Daily Mail published a special report on our activities, Falun Gong spreading to over 60 countries around the world and the persecution in China.
You are welcome to print and circulate all articles published on Clearharmony and their content, but please quote the source.