Jul 08, 2004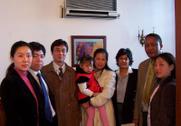 Li Ying (far right), Liao Xiao Qing with her daughter (4th from right), along with South African ambassador to Australia, Mr. Harold Hoyana (2nd from right) and head secretary Rasheeda Adam (3rd from right) pose for a group picture. (Epoch Times)
Seven Australian Falun Gong practitioners with their families met with Ambassador Harold Hoyana and Secretary Rasheeda Adam regarding the shooting of a Falun Gong practitioner in South Africa.
A full investigation is under way by police officials, according to the South Africa Embassy.
The spiritual movement Falun Gong was banned five years ago in China and is severely repressed there. However, while practitioners' human rights are violated in China, and they have complained about harassment by Chinese officials overseas, this is the first time they have been shot at, according to Li Ying, a family member of one of the victims.
Li said that before her husband Li Lianzhong left for South Africa, he received a threatening phone call from someone who clearly did not want him to go to South Africa. "It is quite clear that the shooting was no accident, but a planned manoeuvre. The gunmen did not attempt to take any money or property, and the incident spoiled the practitioners' intent to serve Zeng Qinghong with legal papers for his participation in the persecution of Falun Gong practitioners in China."
"South Africa has also seen days of civil injustice, as well as a peaceful movement towards something better," said Adams, "I understand why some Falun Gong practitioners are making many sacrifices, and in some cases the ultimate sacrifice to obtain their freedom of belief."
Shooting victim David Liang is the father of two children and caretaker for his disabled mother. He suffered bullet wounds in both feet. Liang is by profession a taxi driver. Family members hope the surgery is successful so that he will be able to return to work.
http://english.epochtimes.com/news/4-7-8/22340.html
You are welcome to print and circulate all articles published on Clearharmony and their content, but please quote the source.