Canadian Falun Gong practitioner Zenon Dolnyckyj went to Taiwan in mid-February to promote his new book Coming for You. During his stay, he visited two jails and one juvenile detention centre. He talked about his positive turnaround after practicing Falun Gong and his experience of visiting China to the inmates and presented books to the jails for the inmates to read. After the speech, the guards of the jails and the director of the detention centre greeted Mr. Dolnyckyj and praised the contributions of Falun Gong to purify people's minds and benefit society. They also said they were pleased to invite Falun Gong practitioners to teach the inmates the practice periodically.
| | |
| --- | --- |
| | |
| Zenon recounts his experience of practicing Falun Gong to the inmates | Falun Gong practitioners sing for the inmates |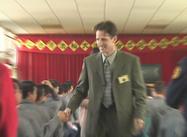 Zenon handshakes with inmates
The program included the video Long Yuan showing how Zenon and other Western practitioners unfurled banners and declared, "Falun Dafa is great!" on the Great Wall and Tiananmen Square, Beijing, China. After the speech, Zenon and Taiwan Falun Gong practitioners sang in Chinese the songs Coming for You and Be Saved. Some inmates were moved to tears and many applauded following the songs. Before saying good-bye, some inmates asked where they could learn Falun Gong after they are released.
In his speech, Zenon said that he used to smoke, abuse drugs and alcohol and had many harmful habits. Once, he was so desperate that he left his family to live alone. However, in 1998 he discovered Falun Dafa and after a few months of practicing, he successfully quit drugs and started a new life.
He said that he used to take advantage of other people out of selfishness, but harmed many people in the process, including his best friend and family members. Actually, the person he hurt most was himself, he said. After practicing Falun Gong, he always thinks of others first and has become truly happy. Instead of being angered by those who wrong him, he follows Truthfulness, Compassion, Forbearance.
Zenon learned Taiji, martial arts, I Ching, Chinese herbs and acupuncture. He said that he intended to benefit from studying things from ancient China, but did not understand the broad cultural connotation behind the essence of it. After practicing Falun Gong, he truly began to know the broadness and profoundness of Chinese culture. Since then, he reveres Chinese culture even more. He loves China and pays attention to the life of Chinese people. However, Jiang's regime fabricates lies to slander Falun Gong and deceives the Chinese people. Many people do not know the truth of Falun Gong and some even assist in the persecution. After learning Falun Gong, Zenon understood what true compassion was.
In November 2001, he and other Western practitioners decided to go to Beijing to expose the Jiang regime's lies. He said that before he left for Beijing he was a little afraid. For the sake of the Chinese people, he was determined to go, in spite of the danger. On Tiananmen Square, 35 Western Falun Gong practitioners unfurled a banner with the words Truthfulness, Compassion, Forbearance. Within thirty seconds, police and police vans encircled the practitioners. Zenon shouted "Falun Dafa is great!" with all his strength to let tourists on the square know the greatness of Dafa.
During the visits to these prisons, Zenon also received invitations from other jails. Due to his schedule, he could not visit them this time. Before leaving, Zenon visited a senior police officer in the Headquarters of Garrisons, Taiwan. The officer had read Zenon's book Coming for You. He expressed his appreciation for the contribution of Zenon and Taiwan Falun Gong practitioners to Taiwan inmates and Taiwan's people.
You are welcome to print and circulate all articles published on Clearharmony and their content, but please quote the source.