Falun Dafa practitioners held activities on Karlsplatz on May 14 to celebrate the 30th anniversary of Falun Dafa's introduction to the world. They demonstrated the exercises, handed out information about Falun Dafa, and collected signatures on a petition to end the persecution of the spiritual practice in China. May 13 coincides with the founder, Mr. Li Hongzhi's birthday. They took a group photo to wish him a happy birthday, and a happy Falun Dafa Day.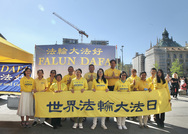 Practitioners took a group photo to celebrate World Falun Dafa Day and wish Master a happy birthday.
Spring was in the air and the sun shone brilliantly in the intensely blue sky. The practitioners dressed in yellow shirts were particularly eye-catching. Many people were drawn by their exercise demonstration, and stopped to chat. They wanted to know about Falun Dafa and where they could learn it.
Many people said they couldn't understand why the Chinese Communist Party (CCP) was afraid of such peaceful exercises. Some asked why people weren't allowed to practice Truthfulness-Compassion-Forbearance in China. When they learned about the CCP's persecution of Falun Dafa they signed the petition to show solidarity with practitioners.
Practitioners hold activities on Karlsplatz to celebrate World Falun Dafa Day.
Ms. Martina Manz works at a hotel's front desk. She passed by Karlsplatz and saw practitioners demonstrating the exercises. She said that they seemed very peaceful. After talking with a practitioner, she signed the petition to stop the CCP's organ harvesting from practitioners.
"I oppose any forced organ harvesting," said Ms. Manz, "It violates human dignity by buying and selling organs like a piece of meat."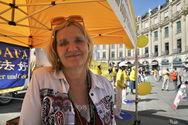 Martina Manz
When she learned that the CCP does not allow people to practice Truthfulness-Compassion-Forbearance, she said, "It's not good to ban people's words and deeds. Disregarding people's wishes and forcing orders from above are bad. Many people grow up in this environment. They are deceived by (the CCP), so they don't think and express their opinions. So many people think this is normal and go along with it because they are used to it. It's really sad."
When Ms. Monika Veleti, a kindergarten teacher, noticed practitioners doing the exercises, she took the initiative to sign the petition at the booth. She said that she previously heard about the CCP's organ harvesting from practitioners while they are alive and felt that it must be stopped. She said, "Maybe these signatures won't work right away, but one day they will."
Ms. Veretti said that she lived in the communist Czech Republic and knew the communist party very well. She said, "Every totalitarian regime persecutes people, doesn't like the truth, and doesn't want people to express their views."
She said that the CCP's oppression in Hong Kong and threats to Taiwan were obvious to everyone, "I don't need to say more. I know about the rampant organ trade (in China). People can disappear like a grain of sand."
Pan Huiqin from Munich is 84 years old, and began practicing Falun Dafa in July 1995. "I am very grateful to Master," she said. She explained that without Falun Dafa she might not be alive. Before practicing, she had skin diseases on her face. After half a year of treatment, it became worse.
After her son attended Master's lectures in China he began to practice Falun Dafa. He urged her to practice, but she felt that her illnesses could not be cured. Her son told her that only by practicing Falun Dafa would her illnesses be resolved. Ms. Pan participated in a nine day Falun Dafa class and watched the video of Master's lectures. She started practicing afterwards.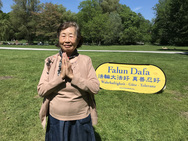 Ms. Pan Hui-qin, 84 years old
For more than 20 years, she hasn't had an injection or taken a single pill, and she is energetic every day. Occasionally she had some symptoms of illness karma, but soon recovered by practicing the exercises.
Ms. Pan has changed a lot, not only physically, but also mentally. "I used to like to eat, drink, play, sing, and dance." She said that after practicing, she took those activities lightly.
Before the pandemic, Ms. Pan persisted in going to scenic spots to clarify the truth to Chinese tour groups every day, rain or shine. During the pandemic, she persistently called China to clarify the truth and help people withdraw from the CCP.
Background: What is Falun Dafa and Why is the CCP persecuting It?
Falun Dafa (also known as Falun Gong) was first introduced to the public by Mr. Li Hongzhi in Changchun, China, in 1992. The spiritual discipline is now practiced in over 100 countries and regions worldwide. Millions of people who have embraced the teachings, which are based on the principles of Truthfulness, Compassion, and Forbearance, and learned the five exercises, have experienced improved health and well-being.
Jiang Zemin, former head of the Chinese Communist Party (CCP), perceived the spiritual discipline's growing popularity as a threat to the CCP's atheistic ideology and on July 20, 1999, issued an order to ban the practice.
Minghui.org has confirmed the deaths of thousands of practitioners as a result of the persecution over the past 23 years. The actual number is believed to be much higher. More have been imprisoned and tortured for their faith.
There is concrete evidence that the CCP sanctions the harvesting of organs from detained practitioners, who are murdered to supply the organ transplant industry.
Under Jiang's personal direction, the CCP established the 610 Office, an extralegal security organization with the power to override the police and judicial systems and whose sole function is to carry out the persecution of Falun Dafa.

You are welcome to print and circulate all articles published on Clearharmony and their content, but please quote the source.