Falun Dafa practitioners in Jonkoping County in southern Sweden held an information day at Jönköping Rådhusparken. Noteworthy for its beautiful landscaping and sculptures, Jönköping Rådhusparken is a tourist attraction and is popular with local residents. Because the park is situated near many educational institutions, high school and college students routinely visit the area.
Practitioners set up an information booth near the park entrance. They demonstrated the gentle, slow exercise movements. Many high school and college students were attracted to the peaceful exercise music.
Some watched practitioners demonstrate the exercises and wanted to learn them. Others read the information on the poster boards, chatted with practitioners and signed the petition to end the persecution. Many said that they knew about the CCP's (Chinese Communist Party) true nature.
Practitioners demonstrated the Falun Dafa exercises as part of their activities at Jönköping Rådhusparken in Sweden.
Local students learn about Falun Dafa.

Students sign the petition to end the persecution of Falun Dafa in China.
Middle School Student: My Mind and Body Feel Relaxed After Practicing the Exercises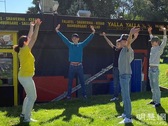 A group of middle school students learn the Falun Dafa exercises.
"I feel a strong energy field," "It looks very peaceful," "I feel relaxed," "I want to learn the practice too!" a group of middle school students commented while learning the exercises.
After a practitioner told three middle school students about Falun Dafa, one of them asked, "Can you show us how to do the practice? We want to try." The practitioner taught the boys how to practice the first set of Falun Dafa exercises. They all said they felt relaxed and experienced a strong energy field.
Upon learning about the ongoing persecution in China, all three boys signed the petition calling for an end to the persecution.
University Student: I Will Tell My Classmates to Come Support You
Two university students stopped by the information booth and chatted with practitioners for a long time. One of girls said that she saw Falun Dafa practitioners demonstrating the exercises in another city. She felt they were surrounded by a great and righteous energy field. Both young women condemned the CCP for persecuting a cultivation practice that benefits the mind and body.
Another student stated, "The CCP is not only persecuting its people, but is also trying to destroy the whole world. It refuses to take responsibility for the CCP virus (coronavirus) which originated in Wuhan and even tried to cover it up. The CCP's actions caused an economic recession and many people lost their lives because of this virus." They signed the petition and said, "We will tell our classmates about this persecution and have them come sign this petition to support you."
The girls were true to their word and not long after, many other students came to the information booth and signed the petition.
Understanding the True Nature of the CCP
A man who works at a nearby office building passed by. He took a truth-clarification flyer and began reading it as he walked. He soon returned and said, "I know that the CCP is very evil. At one point my company thought about being its business partner and hoped that it would become better."
The man continued, "Yes, we were quite naive at that time. Now, we have seen the true colors of the CCP and we know that we cannot trust them." He also talked about the Chinese consulate's shameless acts in Sweden. Before leaving, he signed the petition and thanked practitioners.
Falun Dafa Practitioner: As Long as the Persecution Continues, We Will Continue to Expose It


Veronica, a Falun Dafa practitioner
Veronica began practicing Falun Dafa in 1999. She said, "The CCP hid the truth about the CCP virus (coronavirus) and this caused the virus to spread worldwide. I feel that many people are now more willing to listen to us when we clarify the truth. As a Falun Dafa practitioner, I abide by the principles of Truthfulness-Compassion-Forbearance every day to become a better person. I am also able to overcome many obstacles and problems in my life. I hope that my personal experience can help other people. I think if more people can follow Dafa's principles the world will be a better place."

June, a Falun Dafa practitioner
June, a Falun Dafa practitioner, said that practicing Falun Dafa gave her a healthy mind and body, and she has become a person of high moral values. She said, "I talked to many young men and women today. Some of them already knew about the persecution in China. They were all very supportive and signed the petition. I hope more people can learn about Falun Dafa. As long as the persecution continues, I will persist in peacefully exposing it."

Hemant, a Falun Dafa practitioner
Hermant is a software engineer who learned about Falun Dafa through his supervisor in 2011. He said, "I want to tell the Chinese people: 'Do not believe the CCP's lies and propaganda. Millions of people worldwide practice Falun Dafa and we are all blessed and benefit from Dafa.'"
You are welcome to print and circulate all articles published on Clearharmony and their content, but please quote the source.