Falun Dafa practitioners held activities at the Royal Garden in Stockholm on May 9, 2020, to celebrate the 21st World Falun Dafa Day and Master Li's 69th birthday.
It was a lovely day and the park was filled with blooming tulips. Practitioners demonstrated the exercises, set up posters with information about Falun Dafa, and shared cultivation experiences. They also talked with visitors about Falun Dafa and the Chinese Communist Party (CCP)'s persecution, especially the CCP state-sanctioned live organ harvesting.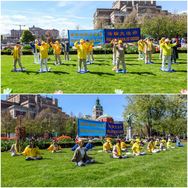 Practitioners demonstrate the exercises at Stockholm's Royal Garden on May 9
Talking with visitors about Falun Dafa and the CCP's state-sanctioned live organ harvesting

People read information about and sign the petition to protest the persecution
People Support Falun Dafa
Due to the coronavirus pandemic, there were fewer people in the park than in previous years. Many passersby paused and took photos or videos of the exercise demonstration. Some read the posters and talked with practitioners, who spoke both Swedish and English.
Two women watched the exercise demonstration for a long time. One said, "I heard about Falun Dafa when I lived in another country. I know Falun Dafa is good." She said she was interested in learning it and asked where the local practice site was.
Six young people stopped to read the posters and talked with a practitioner. When they heard how the CCP harvests organs from practitioners for lucrative profits, they were appalled.
A Swedish couple were moved by the serene and peaceful exercises. After learning more about the practice, they said they would like to learn it.
"The CCP is so evil," the man said. "They covered up the coronavirus outbreak in Wuhan and now it has spread all over the world. So many have died, and many companies are bankrupt.
"For us who live in a democratic country, it's hard to imagine that live organ harvesting is taking place. People should now understand that the CCP is capable of anything! I support you."

Expressing Appreciation for Master
In April 1995, Mr. Li Hongzhi, Falun Dafa's founder, was invited to Sweden. He gave five lectures in Stockholm and Gothenburg. Then he gave seven-day lectures in Gothenburg from April 14-20.
Thomas was 15 when he started practising in 1998. He said, "Falun Dafa brings serenity and peace to my life. I've practised for 22 years and I truly appreciate how precious Zhuan Falun is.
"It teaches me how to be a good person and to deal with conflicts and problems in a peaceful and tolerant way. I feel relaxed and happy at work and in my daily life. I don't have much stress."
Thomas lives close to the place where Master lectured in Gothenburg. Every Sunday he goes to the practice site to do the exercises. He said, "I feel grateful when I practice the exercises. I wish that Master could come to Gothenburg again. I express my highest respect to Master Li!"

Thomas began practising Falun Dafa when he was 15 years old
Ronald, 86, worked at the Swedish National Radio Station before retiring. He shared what a joy it was to start practising Falun Dafa at the age of 80.
"I looked for a bright path for more than 30 years," he said. "My dream finally came true. Six years ago, I gained a brand new life! I'm now optimistic about life. My weight is normal and remains stable. I'm happy and feel fulfilled."

Ronald, 86, said he feels happy and fulfilled after practising Falun Dafa
Ronald says he reads Zhuan Falun every day. "The more I read this book, the more I realize its preciousness. When I deeply reflect on what I've learned, I get more insight the next time I read. I can't express in words how grateful I am for this generous gift! I feel very honoured and sincerely thank Master Li!"
Ms. Zhou was a lecturer at a university in China. For over 20 years she's clarified the truth to people in Sweden. She reflected on how she improved after she began to practice: "I began practising Falun Dafa in September 1998. Before then, I'd almost lost the confidence to go on. I had a hot temper and was selfish. I was delighted when I found Falun Dafa. My joy is beyond words. Falun Dafa has shown me how to be a better person."
She said that, after she began to practise, she looked within whenever conflicts arose and thought of others first. She said she will cultivate more diligently and tell more people about the persecution.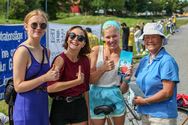 Three girls stopped to talk about Falun Dafa with Ms. Zhou (first from right)
You are welcome to print and circulate all articles published on Clearharmony and their content, but please quote the source.