Ms. Li Cuihua was released on medical parole in October 2014 after she was tortured and fell unconscious while imprisoned for not renouncing her faith in Falun Gong, a spiritual discipline that has been persecuted by the Chinese communist regime since 1999.
After five years of being bedridden and suffering, she passed away on May 28, 2019. She was 64.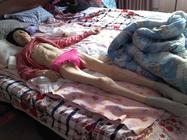 Ms. Li Cuihua before her death
Ms. Li began to practise Falun Gong in 1996. She credited the practice for improving her health and elevating her character. After the persecution began in 1999, she was repeatedly harassed and arrested. She was forced to live away from home to avoid the persecution.
Unable to bear the pressure, her husband divorced her. When he later had a car accident and became bedridden, Ms. Li took good care of him, until he completely recovered.
Ms. Li's latest arrest was on November 7, 2009. She was sentenced to eleven years and served time at Liaoning Women's Prison, a place notorious for its relentless torture of Falun Gong practitioners.
In addition to Ms. Li, several other Falun Gong practitioners are also in critical condition as a result of torture in the prison.
Ms. Xie Baofeng
Ms Xie Baofeng
Ms. Xie Baofeng was sentenced to five years in prison by Chaoyang County Court in 2017. Several months after she was taken to Liaoning Women's Prison on December 5, 2017, she became ill and threw up everything she ate. The prison also rejected her family's requests to release her on medical parole.
Ms. Xie was rushed to the emergency room in early June 2019. She has been taken back to the prison after being discharged from the hospital.
Prior to her latest prison term, Ms. Xie served two years in a labour camp and ten years at Liaoning Women's Prison for her faith. She was deprived of sleep, starved and forced to squat for long hours. Her fingers became deformed after doing heavy labour from morning to evening every day in the prison.
Ms. Li Guojun
Ms. Li Guojun was sentenced to 11 years in Liaoning Women's Prison in 2016 for filing a criminal complaint against Jiang Zemin, the former head of Chinese communist regime who ordered the persecution of Falun Gong in 1999.
She suffered from severe bleeding in early 2018 and has since had two major surgeries. Her family paid nearly 90,000 yuan in medical expenses for her.
It was reported that the guards tortured Ms. Li by giving her only a short sleeve shirt in the winter when the temperature was as low as 12°F and let the cold wind blow on her.
Ms. Li is now receiving chemotherapy in the No.4 Ward in the prison.
Ms. Liu Yujuan
Ms. Liu Yujuan was sentenced to seven years in prison in 2017, also for filing a criminal complaint against Jiang Zemin. She was admitted to Liaoning Women's Prison despite the fact that she developed three big tumours in her intestines during two years of detention at Chaoyang City Detention Centre.
In order to force her to renounce her faith, the guards beat her and hit her head against the metal railing. Her ankle bone was fractured from the beating.
The prison authorities later sent Ms. Liu to the hospital to have her tumours removed. Her family was forced to pay for her medical expenses. She was taken back to the prison and continued to be abused after she was discharged from the hospital.
Ms. Mou Lihua
Ms. Mou Lihua's leukaemia, which had been cured by practising Falun Gong, relapsed in 2016 after she was arrested and sentenced to five years in prison for her belief.
At Liaoning Women's Prison, she was forced to do hard labour despite her deteriorating health. Many patches of bruises appeared on her body and her left breast had three tumours that seeped fluid. She also developed a uterine tumour.
In June 2018, Ms. Mou received another three years of prison term from an old case in 2009 (where Ms. Mou was released for health reasons), also for her faith in Falun Gong.
Her family is now very worried about her health.

You are welcome to print and circulate all articles published on Clearharmony and their content, but please quote the source.