Practitioners organised a series of activities for Human Rights Week in Turkey's largest city, Istanbul, in December 2019. They held a press conference in front of the Chinese Consulate, raised awareness of the persecution in China, demonstrated the Falun Dafa exercises, and collected petition signatures to help stop the persecution.
Group exercises in Besiktas Square in Istanbul, December 7, 2019
Practitioners gathered on Sunday, December 1 to do the exercises together in Gulhane Park, a popular tourist destination in Istanbul. Turkish and foreign tourists, as well as locals, expressed interest in this ancient spiritual practice. Because of local laws forbidding banners or brochures at the site, practitioners spoke to people passing by, many of whom recorded the address of the Dafa website on the practitioners' shirts.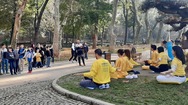 Group exercises in Gülhane Park, December 1, 2019
Practitioners demonstrated the Falun Dafa exercises on Saturday, December 7, in front of the Beşiktaş Democracy Monument, one of Istanbul's most popular districts, and also set up a photo exhibition. Many people learned about the persecution in China during Human Rights Week.
Several students attended the event to learn the exercises. Other people took videos and photos to share on social media. Some asked how they could learn and wanted to join the exercise sites. A corporate employee and a university student club member said they wanted to invite practitioners to introduce Dafa and obtained contact information from the practitioners.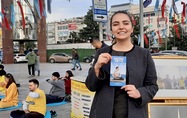 Mekseliyna graduated from the Orthopedic Prosthesis and Orthotics department at the university
Mekseliyna met Falun Dafa practitioners at the Adana Orange Flower Festival ten months ago. She said, "I came across a very peaceful event at the festival in Adana. I started to learn the exercises. I learned that the principles of the practice are 'Truthfulness-Compassion-Forbearance.' I have been thinking about Falun Dafa for ten months. There have been many obstacles, but I have overcome them, and now I'm here. Falun Dafa is very good."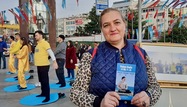 Ms. Semra, who lives in Trabzon, was very thankful to meet Falun Dafa practitioners. She said, "I will practise regularly when I return to Tranzon. Please come to Trabzon city"
Semra Cilara, a housewife said, "I saw the Falun Dafa practitioners when your social media page came up. I live in Trabzon. I wanted to meet and talk with you when I came to Istanbul. This practice has an energy which feels so comfortable and very beautiful. I feel that it will have more effect when done seriously."
Retired Colonel Mehmet Bey said, "At your event, I saw and liked the Falun Dafa exercises. I got your brochure. I have no health problems, but I think I will be much better if I do this practice. It is very peaceful." Mr. Mehmet was given information about the exercise site and he said that he would participate.
In Front of the Chinese Consulate in Istanbul on Human Rights Day
On Human Rights Day, Tuesday, December 10, practitioners gathered in front of the Chinese Consulate in Istanbul for a one-hour press conference at 9:00 a.m. They distributed informational materials about the persecution, demonstrated the exercises, and sent righteous thoughts, calling for an end to the persecution.
During the protest, even drivers stopped and encouraged the practitioners from their vehicles. Some who knew how China's government persecutes ethnic groups and their own people gave the practitioners a thumbs-up.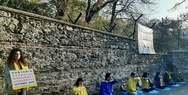 Exercise demonstration in front of the Chinese Consulate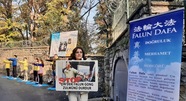 The poster reads, "The World Needs Truthfulness, Compassion, and Forbearance"
You are welcome to print and circulate all articles published on Clearharmony and their content, but please quote the source.