New Century Film company's Origin Bound made its European debut on September 2, 2019 during the Wales International Film Festival in Neath, Wales. The film drew a great deal of attention and leading actor Guangyu Jiang won "best actor" award.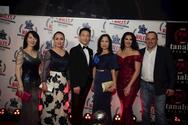 Origin Bound actors with Samira Mohamed Ali, Chair of Wales International Film Festival, and Euros Jones-Evans, founder of the film festival
Euros Jones-Evans, founder and CEO of the festival, said he was very touched by the film and it's theme, the power of faith. "I understand the message conveyed by the film. It is especially important to keep our belief," he said.
Samira Mohamed Ali, co-founder and chair of the festival, was moved to tears during the film. She said, "This is the movie we want to see." She hoped that all people would watch it and said she would introduce the film to her friends and family.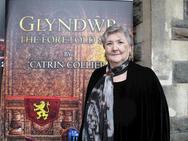 Katherine John, writer and jury president of the Wales International Film Festival
Katherine John (aka Catrin Collier) believed that the film's story can help more people understand what is happening in China today and what Falun Gong is. Katherine said that the Western media's coverage of Falun Gong has so far focused on the Chinese Communist Party's (CCP) persecution of the group
She feels that the general public in the international community wishes to learn more about the practice of Falun Gong. She said, "I believe this film will draw a big audience."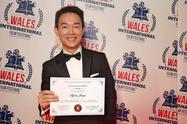 Leading actor Guangyu Jiang of Origin Bound won "best actor" award during the third Wales International Film Festival
"The film Origin Bound is my true story," Jiang said during the awards ceremony. "I am a Falun Gong practitioner. Falun Gong is being persecuted in China. The story is about Falun Gong and the CCP's persecution."
Jiang credits his award-winning performance to his belief in Truthfulness, Compassion, and Forbearance, the principles of Falun Gong.
City Councilor Y Cynghorydd Robert G Jones of Neath Port Talbot gave Jiang the award. Mr. Jones said he hopes many people will see the film, "Belief is very important to the modern human being."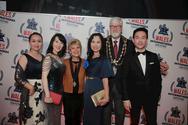 Mayor Bob Price of Neath Town and his wife Sarah congratulate Origin Bound lead actor Guangyu Jiang
Jiang's speech during the award ceremony touched Mayor Bob Price of Neath Town and his wife Sarah. They were appalled to learn that Jiang had been forced to stay away from his homeland for nearly two decades due to his spiritual belief.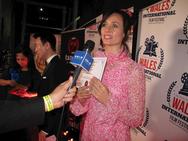 Ms. L. Brossen, French film director and actress, praised Origin Bound andsaid she hopes to see more films that are filled with hope for humanity
Jiang's speech was praised by French film director and actress L. Brossen. She was impressed by the principles of Truthfulness, Compassion and Forbearance.
She said, "These are wonderful values that will make you feel the joy of life. As an actor, if you have this value in your heart, you will be happy in your real life outside the movie acting career." She added that she hoped to see more works like Origin Bound that gives hope for humanity and is full of positive energy.
You are welcome to print and circulate all articles published on Clearharmony and their content, but please quote the source.