To celebrate World Falun Dafa Day, May 13, Dafa practitioners gathered on Human Rights Square near the Eiffel Tower on the afternoon of May 5, 2019. Through music, dance and demonstrating the Falun Dafa exercises, practitioners shared with the public how wonderful this traditional spiritual discipline truly is.
Several visitors stopped to learn the exercises while others asked about local practice sites so that they could learn more about Falun Dafa. Several tourists from China stopped to watch the celebration and took photos. One Chinese tourist said, "I know Falun Dafa is good. I used to see practitioners doing it in China but not now." When they were told that the Chinese Communist Party (CCP) has spread a lot of misinformation about Falun Dafa, the Chinese tourists pointed out, "Nowadays no one believes what the CCP says."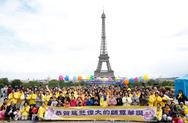 Practitioners in Paris celebrate World Falun Dafa Day and express their gratitude to Master Li Hongzhi for introducing Falun Dafa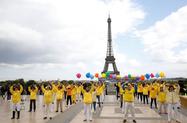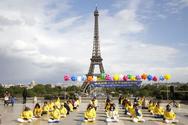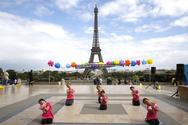 Lotus Flower Dance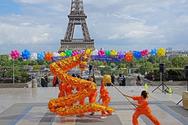 Dragon Dance
Mr. David Beruchashvili is a history and geography professor. He was very happy to meet practitioners. He noted, "Falun Dafa is an incredible practice for improving one's health and achieving inner peace." When he learned about the persecution in China, he said, "What's happening in China is unbelievable! I'm interested in learning how to practice Falun Dafa."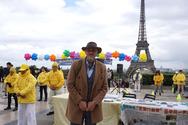 David Beruchashvili
Viviane from North America is studying in Paris. She watched practitioners doing the exercises for a long time. After listening to an introduction to Falun Dafa, Viviane said that she was interested in practising and asked where she could learn the exercises.
Her friend Kaya is from Estonia. Kaya also watched the exercise demonstration and read the information. She said, "I'm interested in knowing more. I will check out the website when I get back home. It's heartbreaking to hear about the persecution in China. China has such a long history and glorious culture. There should be a better political system [there]."
Practitioners Express Their Gratitude to Master Li
Henry Michel began practising Falun Dafa in 2017. This is the first time he's participated in World Falun Dafa Day activities. He said that before he began practising Falun Dafa he had a bad temper and his relationship with his parents was tense. Soon after he began practising, his family noticed that he became more peaceful and calm. He is grateful to Master Li for the teachings of Falun Dafa and wants to help people gain a better understanding of this mind-body cultivation practice.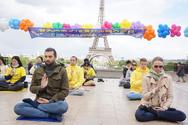 Henry Michel (left) says he's experienced many positive changes from practising Falun Dafa. He is grateful to Master Li for introducing this mind-body cultivation practice to the public
Quentin Pelletier lives in the greater Paris region. He learned about Dafa on the Internet four years ago and decided to take up the practice. Through him, his family and many friends also became practitioners. He started a practice site in the city he lives in, and more and more people have begun coming to the practice site. He attended the Dafa Day activity in Paris with his father Daniel Pelletier. This is the first time his father attended a public group practice and he said that he's glad to help others know about Dafa through demonstrating the exercises.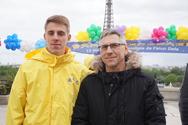 Quentin Pelletier and his father Daniel traveled to Paris to attend the Falun Dafa Day activity
Maryse Lipau is an assistant nurse. She moved from Guadeloupe five years ago and found it difficult to adapt to her new life. One day she saw practitioners doing the exercises. When she learned that they follow Falun Dafa's principles of Truthfulness-Compassion-Forbearance in their daily lives, she knew that this is what she had been searching for. Dafa has helped Maryse find meaning in life and she is able to understand and accept others more easily. She is immensely grateful to Master Li for guiding her.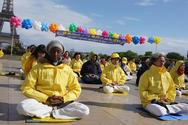 Maryse Lipau (left) found the true meaning of life through Falun Dafa
Originally from Tel Aviv, Gai is a computer engineer who now works in Paris. In 2001, a friend told him about Falun Dafa. He searched the Internet for information about Dafa and had many questions. He phoned a local practitioner and the practitioner met with him. The practitioner had printed out the first two lectures of Dafa's main book, Zhuan Falun, and gave them to Gai. After Gai read them, he knew he found what he was looking for. He photocopied the entire book and read it. He has practised Falun Dafa ever since and said, "I'm grateful to Master Li Hongzhi for giving me this opportunity to practice Dafa. I hope that everyone will at least give the practice a try or read Zhuan Falun once. They will then understand what it is."
You are welcome to print and circulate all articles published on Clearharmony and their content, but please quote the source.