Falun Gong practitioners in Denmark participated in a health expo in Horsens, a beautiful town in the heart of Denmark, on September 2nd and 3rd, 2017. Many people at the expo took this opportunity to learn about Falun Gong, a traditional Chinese cultivation practice, as well as learn the exercise movements.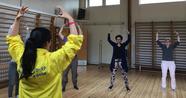 Learning the Falun Gong exercises
A man approached the Falun Gong booth and asked a practitioner, "Is there any more Falun Gong introductory sessions?" On hearing there would be an upcoming session, he said, "Great! I missed the one yesterday. I must go today!" One of the practitioners remembered this man from another health expo in Odense, where he had watched the Falun Gong exercise demonstration for a long time. He eventually attended the introductory session and learned all five exercises.
A lady walked directly to the Falun Gong booth and picked up the book Zhuan Falun. She said, "I would like to buy this book. I can feel strong energy from it."
Another lady, Inge, and her friends are retired teachers. They missed learning the exercises on the first day, but came back on the second day, just to learn more about Falun Gong. All of them mentioned that they felt great after the exercises. Inge said, "I like this exercise!" She was happy to hear there was a group exercise site close to town, and said, "Great! We will share rides and go together."
A gentleman told a practitioner, "Falun Gong teaches Truthfulness, Compassion and Forbearance. These principles are very similar to Christianity in many ways." The practitioner replied, "Yes, the most basics of human principles are similar, though there are many differences in Western and Eastern culture. By following the principles of Truthfulness, Compassion and Forbearance it will bring us hope."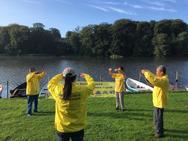 Falun Gong practitioners doing the exercises near the health expo in Horsens
Many people were shocked by the brutality of the Chinese Communist Party's persecution of Falun Gong practitioners, especially the state-sanctioned organ harvesting from living Falun Gong practitioners. They signed a petition calling for an end to this atrocity.
Erik, a participant of the expo, signed the petition, and asked Falun Gong practitioners many questions, including why they came here to teach the exercises at no charge, and how they paid for the expenses. After learning practitioners were using their own vacation time and money to introduce this great practice, he said, "You are truly marvellous!"
You are welcome to print and circulate all articles published on Clearharmony and their content, but please quote the source.