The first week of July is Almedalen Week, an important forum in Swedish politics held each year in Visby, a city located on Sweden's island of Gotland. Almedalen is an opportunity for seminars, speeches, and other political activities.
Falun Gong practitioners took the opportunity to talk to politicians, government officials and the many other attendees to raise awareness about their peaceful spiritual practice and the persecution it faces in China.
They set up a booth on the main street in a location that all visitors had to pass. The booth was right beside a media centre where the media interviewed VIPs. Government ministers and other politicians came and went all day long, a great opportunity to meet VIPs face to face.
A Falun Gong car tour across Sweden also began this week. It will continue for about six weeks and will pass through all of Sweden's seven provinces. The tour set off from Almedalsvekan, also on Gotland Island, and also joined the Almedalen activities.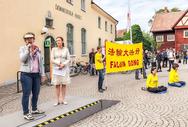 introduce Falun Gong on Visby Square during Almedalen Week.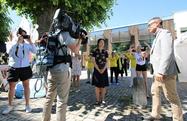 Various local media covered the Falun Gong story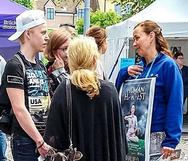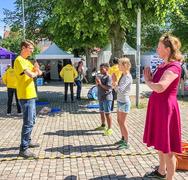 Donersplats is a local centre square where rallies are held during Almedalen Week. Practitioners spent an hour each day on Donersplats, where they spoke to the crowd about Falun Gong, the persecution, and organ harvesting atrocities targeting Falun Gong practitioners in China.
Niclas Malmberg and Hans Rothenberg, both Members of Parliament, came to the rally to speak in support of Falun Gong efforts against the persecution. Both are active in other efforts against illicit organ trafficking.
In his speech, MP Malmberg said, "Several MPs and I jointly set up a network in parliament against organ trafficking. I hope more MPs, government, and public learn about the organ trafficking in China. I put forward a bill in Parliament and hope that like other countries, Sweden will have a code banning people from going to China for organ transplants."
In his speech, MP Hans Rothenberg said, "Not long after we held our May 3 forum in Parliament for this issue (live organ harvesting), the Chinese embassy contacted us. Apparently, the Chinese government is afraid of our exposure of the crime. They fear more people learn about this and stop them. Of course, we are not afraid of them. We will continue our effort to pass the bill."
They both spoke out about the horrors of organ harvesting atrocities, saying that the evidence is unquestionable.
More than 1900 organizations and 40,000 people participated in Almedalen Week. More than 4000 events were held. Many people learned about Falun Gong, and some of them expressed their appreciation to the practitioners for their efforts.
You are welcome to print and circulate all articles published on Clearharmony and their content, but please quote the source.