May 13 marks World Falun Dafa Day each year, and this year was the 23rd anniversary of Falun Dafa's introduction to the public. European Falun Dafa practitioners joined those from other continents to celebrate World Falun Dafa Day in 2015.
Falun Dafa practitioners in the United Kingdom held a series of activities in London on May 9, 2015 to celebrate the upcoming May 13th World Falun Dafa Day. May 13 is the date when Falun Dafa was introduced to the public 23 years ago. It also coincides with the birthday of Falun Dafa's founder, Mr. Li Hongzhi.
The activities included a rally in front of the Chinese embassy, a march through the business district and Chinatown, and a demonstration of Falun Dafa exercises at Trafalgar Square.
Rally
The rally started with a large-scale exercise demonstration at 10:00am. Banners reading "Falun Dafa is Good" quickly drew the attention of pedestrians and cars passing by. Many visitors took pamphlets to read and asked questions about the practice and the ongoing persecution in China.
Practitioners have maintained their presence at this location for nearly 13 years, around the clock. Using banners reading "Stop Persecuting Falun Dafa" and "Stop Live Organ Harvesting," they raise awareness of the violent suppression of Falun Dafa by the communist regime in China and hope to end the brutality.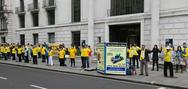 Practitioners rally in front of the Chinese Embassy on May 9, 2015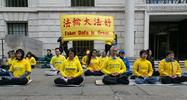 Group meditation during the rally
March in the City Centre
The march started at 11:45 a.m. and proceeded along Regent Street and Piccadilly Road, two streets famous for shopping and tourism. Many pedestrians took pictures, picked up pamphlets, and talked with practitioners.
Among them was salesperson Mohanmud, who stood quietly watching the march for a long time. He said, "I have heard about Falun Gong in the past, but I have never seen a march like this."
"I fully support you. And please tell me what I can do to help you." He thanked practitioners for telling people about Falun Dafa and the persecution and added, "People need to know the truth, and you will be blessed for you are doing."
Tompson and Barbara, a couple from Nottinghamshire County, saw the march, and stopped to read the pamphlet handed to them by a practitioner. Tompson said he had heard about the persecution before, including organ harvesting from living practitioners. "But this is the first time I have seen a march by Falun Dafa practitioners. Very peaceful and well organized."
"Persecuted for your belief? No way!" Tompson said that the suppression of innocent people should end: "The sooner, the better. Because such a horrible thing must stop, for now and for the future."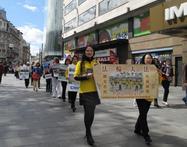 Practitioners march through the business district after the rally
March through Chinatown
Practitioners regularly hold events in Chinatown to tell people about Falun Dafa and the persecution. As the march on May 9th went through the major streets in Chinatown, many people read the banners and posters, some accepted materials, and quite a few took pictures.
One surprised woman said to another in Chinese, "Come and look. Lots of Falun Gong [practitioners] here!"
Hussein, who works in a local hotel, watched the march with two of his friends. "We did not know much about Falun Dafa in the past. And now we are glad to see it here." He thanked the practitioners for their efforts, and said they would tell others about the practice.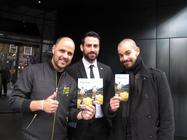 Hussein (middle) and two of his friends thanked practitioners for telling them about Falun Dafa
For John and Sandra, who were visiting Chinatown, it was also the first time they had seen a practitioners' march. "The Chinese Communist Party (CCP) must be crazy by harming innocent people!" He said he would tell others about it. "Everyone should know this," he said.
Exercise Demonstration
After the march ended in Trafalgar Square, practitioners demonstrated the Falun Dafa exercises and gave away hand-made lotus flowers. They also collected signatures calling for an end to the persecution.
| | |
| --- | --- |
| | |
| Passersby watch the exercise demonstration in Trafalgar Square | People sign the petition at Trafalgar Square to call for an end to the persecution of Falun Dafa in China |
Ms. Briges signs a petition to support Falun Dafa's peaceful resistance against the persecution

Ms. Briges signs a petition to support Falun Dafa's peaceful resistance against the persecution
Ms. Smith said she had heard about Falun Dafa in the past, and was happy to learn more today. As she signed a petition letter, she said she felt relieved. "I have been waiting for opportunities to support Falun Gong. And I am very happy to contribute something today," she said.
Ms. Briges, a retired city employee responsible for community diversity, said she was impressed by the peaceful exercises and felt a strong energy and wanted to give Falun Dafa a try.
After a few minutes of meditating with practitioners, Ms. Briges said, "My mind is much calmer now, and I feel very comfortable." She said she would go to a nearby group exercise site and continue learning.
"Everyone should have the freedom of belief, " Ms. Briges said. "Practitioners chose to improve their mind and body. And no one has the right to stop them."
Ms. Briges signs a petition to support Falun Dafa's peaceful resistance against the persecution.
You are welcome to print and circulate all articles published on Clearharmony and their content, but please quote the source.