Czech citizens celebrated freedom once again at the 9th annual Mene Tekel international festival against totalitarianism in Prague on February 23 to March 1, 2015.
The Art of Zhen Shan Ren, a collection of artworks by Falun Gong practitioners, was among the many exhibits presented during the event. The paintings depict the peaceful inner world of the Falun Gong meditation practice, and the outer human tragedy of China's ongoing persecution of the practice.
The opening ceremony for the art exhibit featured guests David Kilgour, a former Canadian Secretary of State for Asia-Pacific, and Ethan Gutmann, an investigative journalist and author of the book The Slaughter, about the killing of Falun Gong practitioners and other prisoners of conscience for their organs.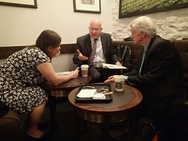 Ethan Gutmann (L) and David Kilgour (R) are interviewed by the Medical Tribune
Also participating in the art exhibition ceremony were the Czech Minister of Culture, the Mayor of Prague, the Lithuania Ambassador, the Estonia Ambassador, and the head of the Czech Ecumenical Council of Churches.
Mr. Kilgour and Mr. Gutmann spoke and answered questions during a discussion after a special screening of the film "Free China: The Courage to Believe," during the festival. The film sparked such great interest that the discussion went long past schedule.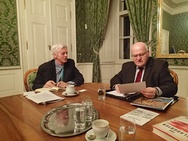 David Kilgour meets with the Czech minister of culture Daniel Hermann
The film tells a story of a mother and former Communist Party member, Jennifer Zeng, who was imprisoned and subjected to forced labor and other means of physical and mental torture in China, simply for her belief in Falun Gong and its principles of Truthfulness, Compassion, and Forbearance.
Meeting with Czech Media
Gutmann and Kilgour spoke at a press conference focused on the issue of forced organ harvesting in China, and throughout their visit in Prague they were interviewed by various local media, including Czech Radio and Czech Television.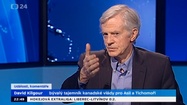 David Kilgour on Czech Television, the main TV channel in the Czech Republic
The two organ harvesting investigators sought progress in the Czech Republic toward outlawing organ tourism, and boycotting Chinese medical professionals for their involvement in this heinous crime. They met with representatives from professional medical bodies as well as government representatives to discuss the issue.
Meeting with MP Karel Schwarzenberg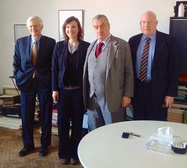 (L-R) David Kilgour, interpreter Jana Skovajsova, Karel Schwarzenberg, and David Gutmann in the Czech politician's office
Mr. Gutmann and Mr. Kilgour paid a visit on February 23, to Czech MP Karel Schwarzenberg, a prominent political figure and former presidential candidate.
Schwarzenberg, the Duke of Krumlov, comes from an aristocratic family, and was living in exile when Czechoslovakia was under communist rule. After the Velvet Revolution in 1989, he returned to Prague to become an adviser to former Czech president Vaclav Havel.
He served as a minister of foreign affairs from 2010 to 2013, and is now an MP and leader of the TOP09 Party.
Schwarzenberg has always been a vocal critic of human rights violations by totalitarian regimes. After meeting with Kilgour and Gutmann and reviewing their research, he issued a statement expressing his views about the persecution of Falun Gong in China, criticizing politicians who remain silent on such issues.
He wrote, "It is a grave mistake that politicians from Europe go to China and don't talk about human rights, even declaring they will not interfere with the internal matters of China, which is interpreted by the Chinese (government) as giving up the right to talk about human rights. This is an act of abandoning the Chinese people, who are the ones suffering most, for many decades. This is an act of intentionally leaving them without hope."
Noting that China's economic expansion often distracts the world's attention from the darker reality, he pointed out, "Under this great facade lies also a hidden face of China as discussed by the journalist Ethan Gutmann in his very carefully researched book about obtaining and selling human organs, a big business developed by the (Chinese) state to the detriment of executed people. If only a quarter of it was true, it would be an appalling crime."
You are welcome to print and circulate all articles published on Clearharmony and their content, but please quote the source.