Shen Yun Performing Arts concluded its stop in France on March 30 at Palais des Congrès de Paris in Paris. In this centre of cultural development, artists and professionals of various fields were stunned by the high artistic level and profound cultural values presented by the performance. Audience new to ancient Chinese civilization were impressed by Shen Yun's uniqueness and deep spirituality. Many were touched by this enriching experience.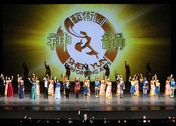 Curtain call at Palais des Congrès de Paris
Pure and Beautiful
Annie Gautrat, better known by her stage name Stone, attended Shen Yun's opening performance at the Palais des Congrès in Paris on March 28. The Palais des Congrès is well known to Stone, who has performed there most recently as part of the Age Tendre et Tête de Bois' band tour late January. However, she said, Shen Yun "is very different from what we did."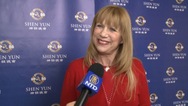 French singer Annie Gautrat said she "appreciated the whole production" after watching the opening performance
"This is purity, precisely. Because this is very far from our Western habits when we see this kind of show. There are no notions of eroticism, things like that. It's all quite restrained, and somewhat innocent. It's beautiful to see, very, very beautiful," Stone said.
"I think that we have ways to go to be like them, because I find that they are very, very talented. For us, it seems we do a little … a bit of song like that, as amateurs … When you see this level of professionalism it's fabulous. I admire all the people who can reach such degrees of talent at all levels!"
Very moved by the show, Stone, as an accomplished professional, said she "appreciated the whole production."
"The level of work needed to put on all of these numbers … with the number of people that are on the stage for just one scene, and they are all fabulous."
Stone said Shen Yun is very colorful, and also has a happy tone, prompting audiences to view the performance "with the eyes of a child."
"We can only applaud all these people [Shen Yun's artists]," she said.
Shen Yun, Stone added, is a must-see performance.
Spiritual Values Important for Contemporary Society
Jean Bernard Hupmann, French pianist and dean of a music school, thought Shen Yun is "an extraordinarily well conceived production."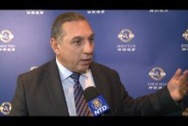 Jean Bernard Hupmann, French pianist and dean of a music school, was touched by the traditional values presented by Shen Yun
Mr. Hupmann had strong feelings about the music of Shen Yun. He said, "The Western music helps to set up the scenes and the Chinese music showcases the folklore, the traditions and Chinese history. Therefore one substantiates the other and thus they complement each other. Western culture and Western music provide a very important sound mass, and above it and most importantly the truly traditional Chinese instruments tell the story."
He continued, "As for me, I appreciate this juxtaposition and merging of the two orchestral sounds. The marriage of the two sound effects is very successful. And on top of that you have the very harmonious synchronicity of the dance, the perfect timing and professionalism of the dancers. It really is fabulous and the colours... the choice of fabrics for the costumes... excellent!"
Mr. Hupmann was also impressed by the costumes. He exclaimed, "The fabrics are superb because they create dynamics all on their own, and with the different geometric figures, they are able to extend the dancers. It feels like an extension, a continuation of their gestures and movements. Very expressive! It speaks to you!"
He was touched by the traditional values exhibited in the performance. He said, It's very moving because I think it is an extraordinary philosophy imbued with respect, that unfortunately, we Westerners no longer exhibit. I myself am a teacher, I find that these values of respect, morality, traditions and education, taught in Buddhism, are lacking in the Western world today"
He stressed the importance of those traditional values, "I am very fond of these values and very happy to witness that. I would like our children, our students, to have such examples. They are really important! So, the spiritual values conveyed by Shen Yun are very important for our contemporary society."
Taken Beyond Reality
"Listen, I have discovered an extraordinary show. Wonderful. I was captivated." Exclaimed after French tenor Roberto Galbès watched the performance on March 29. He thought Shen Yun was "artistic and grand."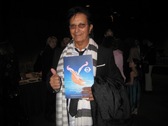 French tenor Roberto Galbès believed that Shen Yun "can bring happiness"
He was amazed by the culture presented by Shen Yun through dance and music. He said, "I have never seen anything that magnificent, that beautiful, with a culture so rich. And a message conveyed through ballet. The efforts put in by the director and the choreographer, in-dept efforts, very artistic and classical. With a music that totally fits. Totally. Wonderful movements from the orchestra."
Mr. Galbès felt that Shen Yun took him to another world. He said, "It was really a show that took me on a tour. I was not in France anymore. I was taken beyond that."
As an artist who tours around, he felt that he "embarked right in that journey" of Shen Yun. He explained, "But now it was a different journey. It was in a culture that interest me as well. So I was delighted. I have no words to explain the reality of my feelings during the show. And I say that sincerely and with all my gratitude. The reason why I thank you is because you brought us something that enriches."
As a Catholic believer, he said, "I think that the Chinese religion, that's just my opinion, is very noble. And I was indeed a little surprised when I saw Buddha. How can they dance in front [of Buddha]... knowing your culture a bit... and finally I understood why. It was because of a message. It was for a message that I sensed well."
Regarding the fact that Shen Yun was established in New York, Mr. Galbès said, "This cannot be done in China, it's impossible. But they just did it. I understand that it's because these dancers are from America. And they do it and believe it, but it's the message in relation to the country of China maybe. But it seems that it is a noble, and respectful message."
He was very glad about this experience. "I think that this show can bring happiness. I believe this wholeheartedly. Look, I am delighted I bought the DVD, I am like a child although I work in the field. I have been in it for years," he said.
He concluded by saying, "I will tell my friends, my fellow musicians, my conductor, my first violin, I watched a wonderful show. I will explain it to them, although they will never be in my position, because they haven't seen it, but I will recommend that they see it."
"Unique at All Levels"
International lawyer Yves Leservoisier has seen many different performances in his lifetime, but none match the presentation he saw, on March 28, at the Palais des Congres in Paris.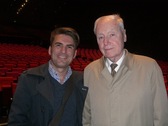 International lawyer Yves Leservoisier thought Shen Yun is unmatched after seeing it with son Bernard on March 28 at the Palais des Congres in Paris
"I have seen many shows in France, England, America, but I have never seen anything that has even come close to this. I cannot say it any better," Mr. Leservoisier said after watching Shen Yun Performing Arts stage its presentation of classical Chinese dance and music.
"It's amazing and absolutely unique at all levels," he said.
"It is simply fabulous," Mr. Leservoisier commented on the backdrops, adding that he was impressed with the level of details he saw in them.
"I've never seen anything like it … This is amazing," Mr. Leservoisier said.
Reviving A "Beautiful and Happy China"
Shen Yun was a brand new experience for Alain LE TUTOUR, an officer at Alliage Français. "I didn't know about this, I am discovering... I discover what is classical Chinese dance... It's very visual, very musical. The very interesting thing I retain with all I knew about French or European classical dance in which fairy tales are told, 'Sleeping Beauty,' 'Cinderella,' and 'Swan Lake', is that this unfurls a historical fresco," he said.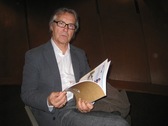 Alain LE TUTOUR, an officer at Alliage Français, enjoyed Shen Yun's performance at Palais des Congrès de Paris on March 29
He continued, "And the [classical Chinese] dance is restored back into traditional folklore. So, it is very folklore, but I find this very interesting, because we travel to China through its beliefs, stories and practices. I find this very interesting."
The structure of the show also impressed him. He said, "I also love the very dynamic side of the show! There is never a dull moment. It goes from one scene to the other."
The male and female dancers and the colors were all "magnificent" to him.
Mr. LE TUTOUR also felt strongly about the spirituality of Shen Yun. He shared, "They [spiritual values] don't change. Believing in human kind, in the universe, in God. Whether it is Buddha or our God, we all need a history and a god. No matter who it is."
He added, "I wouldn't separate them [Western and Eastern cultures]. In tonight's show, I simply saw values from folklore stories. I also like mythological values all the same. Tonight, we saw good and evil, God, the universe, nature, beauty. We saw a range of values, whether from France, Europe or America. It does not change. Only the production changed a bit. It is light, not heavy."
He recommended all his friends to come to see Shen Yun because "it portrayed a smiling China, away from all of China's cliché or pollution. It brings back pictures of a beautiful and happy China."
You are welcome to print and circulate all articles published on Clearharmony and their content, but please quote the source.