On 2nd April 2013, International Art Exhibition "The Art of Zhen Shan Ren" opened at the Latvian Artists' Union Gallery (AUL) in Riga. At the opening, there were many famous Latvian artists, politicians and well known people. The exhibition was opened by Mr. Igors Dobichins, Chairman of the AUL, and Mr. Lauris Fisers, curator of the exhibition.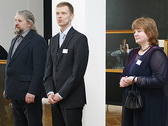 Exhibition opening (from left): Mr. Igors Dobichins Chairman of the AUL and Mr. Lauris Fisers curator of the exhibition and guests. (Photo by Gunars Bernhards)
The exhibition consists of paintings made by artists from different countries but all of them share one thing in common: artists in their everyday life practise Falun Gong, a spiritual self-cultivation practice of mind and body. Unfortunately Falun Gong practitioners are persecuted to death daily in China. In an effort to put an end to this inhumane suppression of a peaceful practice, Professor Zhang Kunlun and other artists decided to express their personal understanding of the universe and life through the medium of art.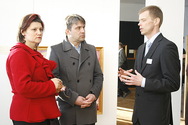 Politician and Member of Parliament Ms. Daina Kazaka and Ombudsman Mr. Juris Jansons talk to curator Mr. Lauris Fisers. (Photo by Gunars Bernhards)
The Ombudsman Juris Jansons shared his thoughts and said that the exhibition is very interesting, bold and very important. Many of these works of art reflect what many of us think and feel every day. Mr. Jansons said that we need to speak about both good and evil, as unfortunately, it is undeniable that in society these two sides exist and it is important to speak about it instead of concealing it.
Among the guests present at the opening was a Latvian politician and Member of Parliament Ms. Daina Kazaka. By sharing her impressions about the exhibition, she said that her impressions after seeing the art exhibition were very emotive. Ms. Kazaka thinks that so much remains to be done for the people in the world to live in peace and that compassion should be encouraged all over the world, and this exhibition speaks very directly about this topic.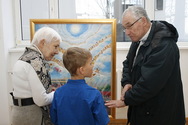 Visitors listen to the guide narration of the painting "Coming for You". (Photo by Gunars Bernhards)
During the opening guests were able to view the art exhibition with guide tours, who told the audience about Falun Gong, a spiritual self-cultivation practice of mind and body and persecution of Falun Gong practitioners by the communist regime in China for more than 13 years, as well as the beauty of cultivation practice.
One artist said, "Such emotionally impressive paintings are only able to be created by the kind of person that really lives according to these high principles." He added, "I am happy that I found and saw these works and learned about such a wonderful practice!"
Visitors enjoy the paintings. (Photo by Maija Liepa)
You are welcome to print and circulate all articles published on Clearharmony and their content, but please quote the source.