Falun Gong practitioners in France gathered on May 12, 2013, at the Human Rights Plaza (parvis des droits del'homme) in Paris to celebrate the 14 th World Falun Dafa Day and the 21 st anniversary of Falun Dafa's dissemination to the world. Their lively dance and music performances along with demonstrations of the Falun Gong exercises drew a large crowd of spectators.
May 13 this year is the 14 th World Falun Dafa Day. Falun Dafa, also known as Falun Gong, was made public in China by Mr. Li Hongzhi in 1992.
Falun Gong practitioners in France held a variety of activities at Paris's Human Rights Plaza to celebrate World Falun Dafa Day as well as Mr. Li Hongzhi's 62nd birthday.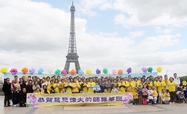 Falun Gong practitioners respectfully wish Master a happy birthday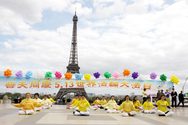 Falun Gong exercises demonstration
Tourists learn about Falun Gong by talking with practitioners and viewing the display boards
Grateful to Master
Ms. Li from northern China has practised Falun Gong for over ten years. She said: "Today I've come to join the activities celebrating World Falun Dafa Day. I want to express my greatest gratitude to our Master for his compassion." Her husband has also started to practice Falun Gong after seeing the positive changes in her. Ms. Li hopes more people can benefit from Falun Dafa like her family has.
Christina, a practitioner from France, learned Falun Gong two years ago. With her face glowing with health and happiness, she talked to tourists about Falun Gong and about the persecution of Falun Gong in China. She said: "Today is Falun Dafa Day. We are here to celebrate, but also try to let more people know about Falun Gong." Before practising Falun Gong, Christina had tried many ways to uplift her spirit. Finally, she found Falun Gong. She said sincerely that since then her mental and physical status has reached the best condition and no words can describe the benefits Falun Dafa has brought her. "I can feel that I am very vibrant, joyful and calm."
Mr. Henri Huilin is originally from Chile. On this day, he came with his wife, who just started to practice Falun Gong, to attend the celebration. Mr. Huilin has practised Falun Gong for thirteen years. Thirteen years ago, he saw Falun Gong practitioners at this very plaza and decided to take up the practice. He said: "To me, Falun Dafa is a revelation and a discovery. It has helped me to rebuild a new life."
Mr. Huilin said emotionally: "When I just started practising Falun Gong thirteen years ago, Falun Gong was only practised in over twenty nations. Today it has spread to over 100 countries and regions. Falun Gong has really spread all around the world. The founder of Falun Dafa, Mr. Li Hongzhi, has made public this cultivation way that is suitable for people to follow in a modern lifestyle. Everyone can practise Falun Gong. Practitioners want to improve themselves from the bottom of their hearts. It benefits the whole of mankind, regardless of their ethnic and cultural background. I am truly happy to see the wide spreading of Falun Dafa."
Practising Freely in France, Standing Up for Freedom in China
Ms. Zhang Chunfang is a Falun Gong practitioner from China. In China she had suffered from harassment and mental persecution by the Chinese Communist regime on many occasions. She has since immigrated to France three years ago. She shared her story: "I suffered from bacteremia and the hospital said I would die very soon. I also started to arrange my own funeral. Unexpectedly I completely recovered after taking up Falun Gong, without using any medicine. When I talk to people under the Eiffel Tower about Falun Gong, I often tell the Chinese tourists of my own personal experience and hope they can benefit from it like I have."
"This is the third time I have joined the Falun Dafa Day celebrations since I came to France. I remember I couldn't help crying the first time," Ms. Zhang said, "It had been a long time that I hadn't been able to freely practice Falun Gong outside with fellow practitioners. It's so joyous that I can now, and the feeling is really great."
Ms. Zhang continued: "Chinese people only want to have this little bit of basic freedom to practice the exercises. The Chinese communist regime doesn't even allow this because it's terrified by Truthfulness-Compassion-Tolerance. This is because the Chinese regime promotes falsehood, evilness and violence. If more people act according to: Truthfulness-Compassion-Tolerance, it would be beneficial to both one's family life as well as to the whole society."
French Tourist: I want to learn Falun Gong
Marie Lepommelec is a medical worker. She was immediately attracted when she saw the Falun Gong exercise demonstration. With her experience in the medical industry she immediately realized the positive effects Falun Gong has in healing and fitness. "These are movements that can make the body very relaxed. As far as French people are concerned, we need it. I just obtained some materials that have information about the Falun Gong exercise site near my home. I will call them to learn more about it."
Over two dozen tourists from mainland China came to the square to take photos. They then encountered the Falun Dafa Day activities. The banner, "Celebrating World Falun Dafa Day", attracted their attention. They came closer to see the Falun Gong exercise demonstration, as well as practitioners performing. They also read the display boards. Many of them took pictures of Falun Gong practitioners' celebration of Falun Dafa Day in Paris.
After listening to Falun Gong practitioners talk about Falun Gong, a Chinese couple visiting as tourists, agreed to withdraw their Chinese Communist Party membership and thanked practitioners for helping them learn the truth about Falun Gong.
Falun Dafa Around the World
Since May 13, 2000, each year Falun Gong practitioners in France have celebrated the spread of Falun Dafa around the world at Paris's Human Rights Plaza that symbolizes "human rights, freedom and equality." As a result, countless numbers of tourists from China and other nations have learned about Falun Gong and expressed their support for Falun Gong practitioners' peaceful and rational efforts to stop the persecution. More and more Chinese tourists have walked out from the shadow of terror imposed by the Chinese Communist regime and learned the truth at Paris's Human Rights Plaza. Many people have since even taken up the practice of Falun Gong.
You are welcome to print and circulate all articles published on Clearharmony and their content, but please quote the source.