Early summer is strawberry harvesting time. From June 15th to 18th, 2011 Falun Gong practitioners participated in the four-day Strawberry Days celebration in the town of Pleasant Grove, Utah.
People came to the Falun Gong booth in small groups. Several practitioners talked to different groups at the same time. From time to time, there were so many people at the Falun Gong booth that other visitors had to wait until one group left before they could talk to a practitioner. The talks covered two topics, the Falun Gong exercises and the persecution of Falun Gong in China. Many people returned to the booth later on to bring the practitioners some food or small gifts to express their appreciation for hearing about Falun Gong and the persecution taking place in China.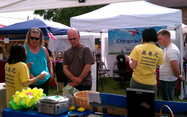 Introducing Falun Gong to visitors at the Strawberry Days celebration
Some people who heard the truth about Falun Gong wanted to learn the exercises. A woman named Linda and her son spent two hours learning the five sets of exercises.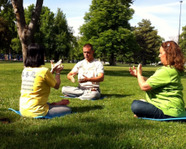 Linda and her son learning the Falun Gong exercises
Several people listened to the practitioners talk about Falun Gong and returned later with their friends and family members. They asked the practitioners to clarify the truth to them too. After hearing the stories about Falun Gong and the brutal persecution in China, some people offered to post the stories on their Facebook pages so as to let their friends know about it as well.
The practitioners also met several people who are studying Chinese history or who had lived in China for several months or even years. They speak fluent Chinese but they were surprised to learn that there is a persecution of Falun Gong happening in China. They said that they knew about censorship in China but didn't realise how severe it was.
You are welcome to print and circulate all articles published on Clearharmony and their content, but please quote the source.