Mr. Jiao Lin, Mr. Liang Yuncheng, Mr. Qu Shanlin, Ms. Wu Juan and Ms. Sun Zhongqin from Fengcheng City, Liaoning Province, were reported to the authorities by Kang Qingdong when they were seen telling people the facts about Falun Gong in Mingzhu County and Ziyou County in Baiqi Town. They were arrested by Jiang Jun, Cao Dejun and another person on September 5th, 2010, and taken to Baiqi Police Station, where they were beaten through the night by Jiang Jun, Cao Dejun and others. Their families were also denied the right to visit them at the police station.
The five practitioners were sent to Fengcheng Detention Centre the following morning. Ms. Wu and Ms. Sun were then taken to Baifangzi Detention Centre in Dandong City, while Mr. Jiao, Mr. Liang and Mr. Qu were taken to Erlongshan Detention Centre. Their families tried to visit them several times but were refused each time.
Officers from the Baiqi Police Station, Fengcheng Political Committee, 610 Office (an organisation of special agents just for persecuting Falun Gong) and the Domestic Security Division were recently planning to sentence these practitioners and handed their cases to the Fengcheng Procuratorate.
Mr. Jiao, 54, is a sales representative in the Fengcheng Pressurizer Company. He was previously arrested by officers from the Fengcheng 610 Office on September 11th, 2004, when he was seen talking to local residents about Falun Gong. He was taken to Benxi Forced Labour Camp, where he was tortured on a Stretch Bed. Mr. Jiao was released on medical grounds after two years of forced labour. He is in very poor health now and struggling to survive.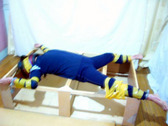 Re-enactment of a practitioner being tortured on a Stretch Bed

Mr. Liang, 44, had a job in the Fengcheng Court. He was persecuted several times because of his belief. While he was detained, his wife and son left him and his parents died. He was tortured on a Stretch Bed twice while in Benxi Forced Labour Camp.

Mr. Qu, 60, is a retired worker from a wine factory. He was arrested and taken to a detention centre by officers from the Fengcheng Police Station in April 2004, and was sent to Dandong Forced Labour Camp. While he was being persecuted, his wife became very ill with worry and later died. Officials from the labour camp didn't tell Mr. Qu when his wife was ill and they didn't allow him to visit her. He only found out that his wife had died when he returned home. His son and daughter work away from home and cannot take care of him.

Ms. Wu, 47, was working part-time. She was arrested when she was seen exposing the persecution in Kuandian, and was taken to Masanjia Forced Labour Camp in Shenyang at the end of July 2007. She was hung up for two days in the camp. When she was let down, she found it very difficult to move and still suffers pain in her body.

Illustration of being hung up by handcuffs


Ms. Sun, 57, was arrested while talking to people about Falun Gong in Kuandian and taken to Masanjia Forced Labour Camp in July 2007. She was in the camp for one year and was tortured there.

Chinese version available at http://minghui.ca/mh/articles/2010/10/13/230965.html




You are welcome to print and circulate all articles published on Clearharmony and their content, but please quote the source.

Email editors: editor@clearharmony.net | © 2001-2018 ClearHarmony.net |

Privacy Policy