An annual awards ceremony was held in the School of Journalism of the prestigious Institute of Political Sciences (Science Po) in Paris on the afternoon of May 20, 2010. Three students received the "Daniel Pearl Annual News Award for 2010." Student Yemeli Ortega won Third Place for her report on Falun Gong practitioner Feng Yajun, who was detained and tortured by the Chinese Communist Party (CCP). She said that Ms. Feng Yajun's nobility of character had given her the courage and inspiration to write the story.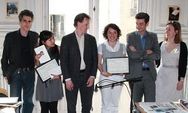 From left: Second is First Place winner Agnes Bun, representative of the Wall Street Journal, Yemeli Ortega, the Secretary-General of Reporters Without Borders.
Bernard Volker, Deputy Head of the School of Journalism of Science Po and member of the awards committee, talked about the award granted to a report on the persecution of Falun Gong. He said, "To be honest, our award is not anti-China. It is based on the value of the report, the facts in the report that expose the persecution of Falun Gong practitioners by the Chinese Communist regime, the quality of the report, and our sympathy for the main character in the report. It is not our profession to criticise the Chinese government; we are only teachers. However, this does not prevent us from saying: 'The Chinese Communist regime is an enemy of freedom.'"
Mr. Volker used to work as the director of the political issues section of the French TV station TF1. He said, "All reporters know that the CCP regime is a dictatorship and that it tramples on human rights. An important point in granting the award to Ms. Ortega is to let the international community know what Falun Gong is about and that the Chinese CCP regime's propaganda is not objective.
Award-winning student: Falun Gong practitioners give me courage

Ms. Feng Yajun (first on the left) and Ms. Yemeli Ortega after the ceremony.
Ms. Ortega talked about her story-writing experience in an interview. She said, "First I noticed Chinese and French people doing very peaceful and gentle exercises in different parks in Paris. I was very curious, so I asked them questions. They were very open and told me about what they were doing and even invited me to do the exercises with them. They also showed me Falun Gong books.
"At the beginning, it was just out of philosophical curiosity. Later I learned about the persecution of Falun Gong in China. Then my sense as a reporter was aroused, and I wanted to write a report about it. I felt it was a very important issue and that it was so preposterous that such a peaceful practice was being so brutally persecuted."
Ms. Ortega then carried out a series of investigations. She said, "Since I could not go to China to report this, I would do it here in France. I contacted the Chinese Embassy first, then the Chinese delegation to the UN Educational, Scientific and Cultural Organization. They never replied. I also contacted the French Human Rights Committee, and they were not very keen to talk to me, either."
However, she received assistance from the person in charge of China affairs in the French Branch of International Amnesty, especially on the issue of organ harvesting of Falun Gong practitioners. She also received support and help from Yves Chapuis, Chairman of the Ethics Committee of Institute of Medical Science of France, and Francis Navarro, Director of Organ Transplant Department of University of Montpellier. She also referred to the book Bloody Harvest: The Killing of Falun Gong for their Organs, by Mr. David Matas and Mr. David Kilgour
Ms. Ortega emphasised that the person that gave her the most help was Ms. Feng Yajun. Ms. Feng was the only female Falun Gong practitioner in France that had been detained and tortured in China before escaping prior to the danger of organ harvesting. When Ms. Feng recalled her suffering and misery, she never cried, but demonstrated great dignity. Ms. Feng's nobility of character greatly encouraged Ms. Ortega to complete her report.
The title of her award-winning report was "Falun Gong is being persecuted by the Chinese government, yet the French government is showing no concern." She pointed out, "As indicated by the title of my report, the French government seems unwilling to take a clear-cut stand on the issue of Falun Gong. In order to keep a stable relationship with Beijing, many people have chosen to take a neutral stand. They say they are watching and waiting for the situation to change. Doctor Navarro told me that he had personally contacted the French Foreign Minister on the issue of organ harvesting from Falun Gong practitioners, but the minister did not want to do much about it. Having contacted so many people, I've got a general feeling that France does not want to make a clear statement on its position on the issue of the persecution of Falun Gong practitioners."
"However," she said, "the French people care about this issue, and the awards committee and all those who have assisted me represent the French people."
Secretary-General of Reporters Without Borders: The Falun Gong issue is not outdated
Mr. Jean-Francois Julliard, Secretary-General of the organization Reporters Without Borders, also attended the awards ceremony. He said that the Wall Street Journal was considered one of the best media in the world. He was very pleased to see that such a young student had won such a prestigious award. He believed that it was a very good thing that a report on the persecution of Falun Gong had won an award. He said it showed that young reporters cared about real social issues and that this issue was not outdated.
Falun Gong practitioners call for an end to the persecution
Ms. Feng's entire family practises Falun Gong and has consequently been subjected to shocking incidents of persecution. Both her parents died as a result of the persecution. She and her elder brother were illegally detained and brutally tortured. They were forced to leave home and later escaped from China.
Ms. Feng told Yemeli that the persecution of Falun Gong was still very serious. She said, "I am very excited to attend today's awards ceremony. I am also very happy, because Yemeli's report will enable many more people to understand us and help bring the persecution to an end."
The Paris Institute of Political Science (Science Po) is one of the most well-respected academic institutions in France. Deputy Head of the School of Journalism and member of the award committee Bernard Volker said in an interview after the ceremony that the award was established by the Wall Street Journal in memory of their reporter, Daniel Pearl, who was murdered by terrorists while working in Pakistan. This was the sixth annual awards ceremony. Members of the awards committee include Daniel Pearl's parents, Head of the School of Journalism Richard Descoins, a representative from the Wall Street Journal, and himself. Participating students choose their own topics, and each year there are about 20 submissions.
You are welcome to print and circulate all articles published on Clearharmony and their content, but please quote the source.