On April 27, 2010, Cardiff's Wales Millennium Centre hosted Shen Yun as they revived traditional Chinese dance and lore.
In attendance was award-winning Welsh Folk musician Robin Huw Bowen.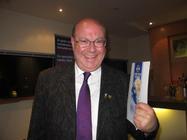 Welsh Folk musician Robin Huw Bowen thought the Shen Yun show was wonderful.
"I'm breathless, I'm absolutely worn out. It was wonderful," he said after the show. "I wish I was young and energetic and could dance like all the people on stage tonight."
Mr. Bowen is an expert in the Welsh Triple Harp and has toured the world introducing Welsh folk music to thousands since 1983. He has significantly contributed to the preservation of Welsh traditional music through his research and performance of old Welsh melodies, and won a BAFTA (Cymru) in 2002 for his original score for the Welsh TV channel S4/C film Eldra.
"I enjoyed everything [about Shen Yun], but the folk tales I thought were special ... They were beautiful," said Mr Bowen, especially praising the final dance "The Buddha's Teachings Spread Far and Wide," which is based on the Chinese classic novel Journey to the West.
"They were just so colourful ... it was so special, so unique," he said.
"The music had such a Chinese nature--the whole thing just sort of blossomed like one big lotus flower," he said. "Wonderful!"
Part of Shen Yun's mission is "to revive the true, five-millennia-old artistic tradition of China," a message Mr. Bowen could identify with. "I'm a Welsh musician, and so I enjoyed having the same message come back to me."
Opera Artistic Director: "I Loved the Orchestra!"
"I loved the orchestra," said Brendan Wheatley, Artistic Director of Swansea City Opera. "The mixture, the fusion of Eastern and Western instruments I thought was fantastic. I really enjoyed that very much indeed. My own background is with Western music and with classical opera."
He said that he found Shen Yun's performance very enlightening and praised the choreography and the costumes.
"Not only was it a spectacle, it was also educational, which is always good."
Welsh Singer: "Absolutely brilliant"
Ms. Williams is a Welsh singer and has appeared numerous times on television programs on the Welsh channel S4/C.
She had heard a lot about the show from friends. She was delighted to see the Classical Chinese dancing and singing, and the Chinese erhu.
"I loved the show! It was just so joyous. It gives you such an uplifting feeling," she said.
During one of the dances Ms. Williams was moved to tears.
"The one dance that made me cry was the one where the mother dies," she said, referring to the dance "Nothing Can Block the Divine Path" that tells the story of a Falun Gong practitioner who is persecuted by the Chinese regime for her belief.
"They tell the story so well--you can't believe that this is actually happening in China. I'm amazed that it's happening and it's sad, it's very sad."
But she was glad that the New York-based Shen Yun Performing Arts was portraying this modern tragedy alongside the beauty of traditional Chinese culture. "I think this is why [Shen Yun] is uplifting, because it is telling us something and it's showing us Chinese culture, I think, at its very best."
Ms. Williams was also taken with the costumes and how the style and fabrics perfectly complemented the dancers' movements. "The costumes, well, they're out of this world. They add so much to the performance," she said.
"I loved the dance showing the silk costumes, and the silver and the rustle that it makes is like the rustle of spring--beautiful."
Sources:
http://theepochtimes.com/n2/content/view/34272/
http://theepochtimes.com/n2/content/view/34250/
http://theepochtimes.com/n2/content/view/34273/
You are welcome to print and circulate all articles published on Clearharmony and their content, but please quote the source.