STOCKHOLM--Shen Yun Performing Arts Touring Company appeared on April 5, 2010 before a sold-out auditorium in the 18th century heritage theatre, Cirkus, in Stockholm.
Judging from the reactions of the audience, the performance succeeded in bringing different heights of enjoyment to an expectant audience. The show generated gasps of amazement from the audience that marvelled at the advanced dance movements of classical Chinese dance, in between numerous rounds of applause.
There were also lingering moments of intense silence when the audience is absorbed in a dance that portrayed a sad story or when listening to the sophisticated tones that flow from the classical Chinese instrument erhu. Occasionally, the show would bring laughter from the audience.
"Wondrous music and plentiful joy in the dances!" said Berit Svedberg, director of the Culture Committee of Stockholm City, after seeing the show.
Svedberg also said that all the people in Stockholm should come to see this remarkable performance and gain from the ancient culture of China.
Music critic Anders Jansson, who has many years of experience in the music profession, described Shen Yun's performances in Sweden as "among the most memorable music events of recent years in Stockholm".
"It was very outstanding, on the whole," remarked Ms Ulla Wretman another member of the audience. Wretman came to the show after recommendations from her friends who had seen Shen Yun.
Shen Yun started its European tour early March this year in Amsterdam, Holland and has since then performed in Belgium, Germany, France, Switzerland, Austria, Ireland and Denmark. After Sweden, the company is scheduled, until mid-April, for performances in Norway and many other cities throughout Europe.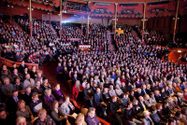 Swedish audience in the sold-out auditorium at Cirkus, Stockholm, April 5, 2010.
Source:
http://www.theepochtimes.com/n2/content/view/32763/
You are welcome to print and circulate all articles published on Clearharmony and their content, but please quote the source.