On Monday July 20th, Falun Gong practitioners in Liechtenstein called for an end to the persecution of Falun Gong in China by holding an activity in front of the parliament and government buildings in Vaduz, the capital city. It was the first official event organised by the newly founded Falun Dafa Association in Liechtenstein.

Truthfulness, Compassion, Forbearance flag flies in front of the Royal Residence
In the centre of the old town the parliament and government building are united on a newly styled square, which attracts many tourists from all over the world. Falun Gong practitioners were allowed to use the whole square to hold their activity and fix banners on the walls of the parliament building. Thanks to the positive support and hospitality of Liechtenstein, a flag with the Chinese characters for Truthfulness, Compassion, Forbearance (the tenets of Falun Dafa practice) flew on Parliament Square all day long.
Throughout the day, local people and tourists alike approached the Falun Gong information stall to find out more about Falun Gong and the human rights abuses being waged against practitioners in China by the Chinese Communist Party (CCP). Several visitors were from Indonesia; the had already heard about Falun Gong and were very interested in finding out more.
Some Chinese tourists agreed to quit the CCP after talking with practitioners. One woman from China said that the Chinese Communist Party is nothing more than a Mafia organisation.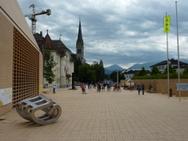 Parliament and Government buildings
One man almost started to cry after he heard about the suffering of practitioners in China. Amongst the many people who said they were hoping for an end to the persecution, some were interested in learning the exercises and also bought the books of Falun Gong.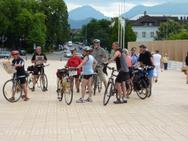 People stopped to get to know the truth about the persecution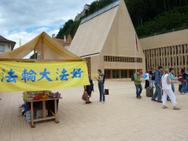 The Falun Gong information stall in Parliament Square
The radio station of Liechtenstein came to report on the activity and let their listeners know about the CCP's human rights atrocities. they interviewed a practitioner and broadcast their report that evening.
The parliament and government square

Interview with Radio Liechtenstein
You are welcome to print and circulate all articles published on Clearharmony and their content, but please quote the source.