On June 29th 2008, the Nordic Falun Dafa cultivation experience sharing conference was held at Goteborg, Sweden. Practitioners from Sweden, Finland, Norway, Denmark, as well as Germany, Latvia, Poland shared their cultivation experiences at the conference.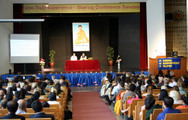 Nordic Falun Dafa cultivation experience sharing conference venue
At the conference, fourteen Chinese and western practitioners shared their experiences and understandings gained from practising Falun Dafa. The sincere sharing won warm applauses at the conference. Practitioners attending the conference expressed that, at this stage, more and more practitioners are getting more mature and in the course of studying the principles of Falun Dafa well, and looking inward. More and more practitioners are able to look at things from the Fa.
| | | |
| --- | --- | --- |
| | | |
| Mr. Kotsambouikidis from Sweden shared his experience of promoting the Chinese Spectacular | Ola Fargam, a high school student from Norway shared his experience of three months of cultivation | Poul from Denmark narrated his course of practising Falun Gong and cultivating himself |
Practitioners from Linköping and Goteborg Sweden shared their experiences in participating in the promotion in Sweden of the 2008 Chinese Spectacular.
Ms. Ebertz said that coordination as a whole body was the key of success for the Spectacular being held in Sweden. During the course, especially while encountering different opinions, to lay down ego is very important. "We often came across emergencies needed to be dealt with; it is easy to have an irritable mood under the circumstance of dealing with many things and high pressure. After the things passed and introspection of my own attitude, I also felt I was not very right. I often reminded myself to pay attention to this matter. I often exchanged ideas with other groups and achieved the same understanding: We must monitor and remind each other, prevent irritable moods and encourage more students' participation".
Mr. Kotsambouikidis informed the participants that the Chinese Embassy attempted to prevent the Spectacular from being held in Sweden but its attempt was not accomplished. He also shared the process of Swedish practitioners' truth clarification to government departments and peoples in all circles, as well as Swedish politicians and the media condemnation of the Chinese Communist Party (CCP). He mentioned that, "During the course of hosting the Spectacular, especially after the shows, one thing became obvious to me; it is my strong show-off mentality, whenever I got a chance to talk to others I always emphasised how well we did in Linköping and how good we made use of this opportunity. Now I have found this is my strong attachment and understood that I could do nothing without Master and the Fa, as well as fellow practitioners".
Mr. Bengtsson, the editor in chief of Swedish Epoch Times, shared his cultivation experience while doing media work: "As chief editor, my responsibility is to help others to publish articles on the website. This means I have to coordinate the translators, editors, article authors, and proof readers. I have no previous experiences of this; it is a new cultivation environment for me. It is also a challenge to my "good-hearted person and peace maker" side, as a person in charge, it is impossible to be "good friends" with everyone. In order to let our readers be informed, especially about what things are happening in China, we write, translate, and publish articles. I noticed with gratefulness that every day many people are sitting in front of computers to write, translate, and publish articles; they don't have time to watch TV programmes, gather with friends, or even take a break after getting back from work places or universities. Persistence is the biggest challenge to the staff of the Epoch Times; at least it is for me. If we can communicate sincerely, understand each other and the commitments, I think the Epoch Times will have a prosperous future. Master has already created the path to the future; it depends on us to walk along the path set by Master".
Ms. Zhang, a NTDTV reporter, shared her experiences on dealing with family and report work of the Swedish NTDTV station. She said "The media has played a tremendous role in the Fa-rectification process; I started to help NTDTV because of my advantages of languages, now I decided to dedicate myself entirely to NTDTV because I deeply understood the powerful strength of NTDTV in saving sentient beings. Last year during the report of the Nobel Prize, we contacted Ministry of Foreign Affairs and the academic circle, interviewed all prize winners, and invited them to give the New Year greetings to our NTDTV audience. The prize winner of 'Economics' refused the interview from CCTV but accept our NTDTV's interview because he understood our NTDTV is a free media".
Mr. and Mrs. Kleinert from Sweden introduced their experience of holding a "Truthfulness Compassion Tolerance" art exhibition. They talked about how to cooperate with each other to clarify the facts to the media and government departments during holding the art exhibition. The art exhibition had been held for three weeks and received over 600 visitors; many of them are teachers and students in local middle and primary schools, and local government officials. The art exhibition made many people learn the truth. They also improved Xinxing during this process.
Mr. Ola Fargam, an 18 year-old high-school student from Norway, started cultivation from March of this year. He said in his speech that, "I graduated my high school study this year; this is the day for many students waiting for decade. At the graduation ceremony graduates will normally drink or do some extreme matters, all of these can not be done as a cultivator. I had quit drinking before the celebration. When others were drinking and in revelry I always found a quiet place to study "Zhuan Falun". I went to three classes to tell the truth. I also came across a reporter and clarified the truth to her, later on the truth about Falun Gong was published in a local news paper, which made more people know and understand Falun Gong."
Poul, an eighty year old Falun Gong practitioner from Denmark, stated his process of obtaining the Fa and cultivation, shared his experience of persistently protest against the CCP's persecution of Falun Gong at the Chinese Embassy. Since 2002 he has come to the Chinese Embassy every day to expose the persecution, appeal to all circles of the society to pay attention to the CCP's persecution of Falun Gong and to help to end this severest human rights persecution in human history.
Swedish practitioner Anders began practising Falun Gong since1995. He said, "Even though I practised Falun Gong for many years and progressed all the time, the cultivation is still so fantastic and miraculous. Sometimes I feel myself as a child, every day I study something new. At the conference he also introduced how to get rid of fear and improve himself constantly during participating in many Dafa projects recently.
The common points of all those conference speakers are how to let go off egos, clarify the truth to the world people with compassion, save more sentient beings, and cultivate and improve ourselves while doing the three things well.
At 5:30pm, the Nordic Falun Dafa cultivation experience sharing conference concluded successfully with the participant's warm applause.
You are welcome to print and circulate all articles published on Clearharmony and their content, but please quote the source.