The Gala Spectacular performance in Vienna made a stir in this musical city. Many people in intellectual and cultural circles not only saw the show, but they were also deeply touched by the performance. During the intermission of the last show in Vienna, two professors told our reporter that they really enjoyed the show and that the performance brought them a good time.
Mr. Glens Knut, a professor at the Vienna University, said, "This is the very first time for me to see a Chinese artists' live performance. In the past I only saw some fractions of oriental dances on the TV. After seeing the Chinese Spectacular this time, I was overwhelmed by the dancers' exquisite performances." "The Chinese Spectacular is a great show" he exclaimed excitedly.
He continued to express that the Chinese culture presented in the show, including oriental music which he had never encountered before, but he loved the show very much and that he was amazed by the dancers' artistic talents.
He mentioned that he appreciated the female dancers' exquisite postures and movements very much. Talking about the acts he liked most, he said that the Nymphs of the Sea portrayed Chinese females' tender virtue; the Mongolian Bowl Dance was very lively and cheerful, and the Drummers of the Tang Court demonstrated the machismo of men in the Tang Dynasty, as a result, he liked these acts very much. In addition, he said that in reality, he liked all of the acts.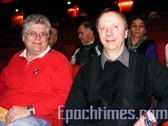 Professor Gehns Knut (right) and his friend who is also a professor
Mr. Simon, a professor from Halle City, Germany, told our reporter that he really enjoyed the Chinese Spectacular very much and the act he liked most was the last act of the first half of the show, the Drummers of the Tang Court, the Chinese drum performance made inspired him.
You are welcome to print and circulate all articles published on Clearharmony and their content, but please quote the source.