On March 1st and 2nd, 2008, the Falun Dafa Association of South Florida was invited to the Miami Asian Heritage Festival at Tropical Park in Dade County.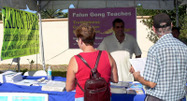 Visitors at the Falun Dafa booth asking for informational materials
Enjoying the mild spring breeze under Florida's sunshine, a few thousand visitors came to the festival to taste Asian food and take in traditional performances including martial arts, dance, drums, and music. The booths also displayed arts and crafts, clothing, flowers, as well as education materials.
The Falun Dafa booth displayed materials about Dafa with information about how the practice has spread throughout the world, as well as truth-clarification materials about the Chinese Communist Party's persecution of Falun Gong in China. The practitioners at the booth further explained to the visitors about the beauty of Falun Dafa and the ongoing persecution in China.
A high school student from Brazil spent a long time in front of the booth and said that he had seen an anti-torture exhibition in New York City a few years ago. There he saw an elderly practitioner demonstrating how Falun Gong practitioners are locked in a small cage and beaten severely. After learning about the inhuman persecution of Falun Gong in China, the young man was very upset and hoped the persecution would end soon. He said he has been in love with Asian culture ever since he was young and dreamed of finding a stable job to save enough money for a trip to Asia. He pointed to a photo of Qi Xiaochun's Erhu performance at the Chinese Spectacular show and said excitedly, "I have heard this musical instrument on the radio. It was beautiful." After hearing that Divine Performing Arts had performed in south Florida and will return this year, he took a flier and said he would be sure to go to the show this time.
A family of four from India came to the Falun Dafa booth. The mother said that they had met a Falun Dafa practitioner in Singapore a few month ago and were interested in the practice. When they arrived in Florida, they have been looking for further information about Dafa and happened to see the Falun Dafa booth at the festival. So they wrote down the contact information for the local exercise site.
When the practitioners were demonstrating the five sets of exercises, a father and daughter were watching among the crowd. The little girl asked her father to bring her into the demonstration. She sat down and wanted to learn the exercises. The 4-year-old girl was named Hope. As soon as she sat down, she could pull up both of her legs across each other in the full lotus position and she held her hands in the "conjoin hands" gesture. She was so lovely that her father took a lot photos of her.
Among the visitors there were many scholars who teach Asian culture in colleges in south Florida. They asked for more materials about Falun Dafa and some said they planned to invite practitioners to come to their classes to talk to their students.
You are welcome to print and circulate all articles published on Clearharmony and their content, but please quote the source.