On November 4th 2007, sponsored by the Ministry of Culture, the Danish Freedom of the Press Association (Trykkefrihesselskabet) held a large-scale seminar on the subject, "Freedom of Speech in China" in the capital city, Copenhagen.
Falun Gong practitioner Zeng Zheng talks about the persecution she experienced in China

Chairman of the Danish Freedom of the Press Association, senior reporter and historian Lars Hedegaard Jensen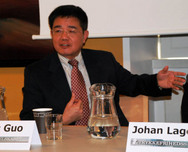 Well known human rights lawyer Guo Guoting: "A lawyer who will not defend Falun Gong practitioners is not a real human rights lawyer."
Falun Gong practitioner Zeng Zheng from Australia, human rights lawyer Guo Guoting, who has defended Falun Gong practitioners, and Ms. Zhou Lei, editor of the European edition of The Epoch Times newspaper, were invited to take part in the seminar. Many more speakers, both Chinese and Westerners from Australia, Canada, Germany, Sweden and Denmark were also invited by the Danish Freedom of the Press Association. The host of the seminar was the Chairman of the Association, senior reporter and historian Lars Hedegaard Jensen. Easterners and westerners who are concerned about issues related to China attended the meeting.
Ms. Zeng Zheng gave a talk about the suffering she experienced and personally witnessed in China's labour camps. She said, "Once, someone asked me whether I missed my husband and children in the labour camp. I said no. Though it sounds strange, it is unimaginable if you have not had such an experience. In that harsh environment, subjected to various tortures and intensive forced labour, a person is stretched to the extreme of physical endurance. Every day my strongest desire was to sleep for a few minutes, even giving up the time for washing my hands after going to the restroom. The most painful thing is, under the high pressure of that oppressive environment, you are forced to give up your belief. It meant so-called freedom if you gave up [practising Falun Gong]. Otherwise you would suffer continuous torture. The torture, both physically and mentally, makes a person lose his normal thinking capacity. I witnessed some Falun Gong practitioners who suffered severe mental collapse or were tortured to death."
When Ms. Zeng showed photos of Falun Gong practitioners who had suffered from brutal torture, people in the seminar were visibly moved. She added, at that time in the labour camps all Falun Gong practitioners were forced to have blood tests and physical examinations. It even caused other prisoners to become jealous, since they thought that Falun Gong practitioners were getting special treatment (most prisoners never received a physical check-up). It was not until the crime of harvesting organs from living Falun Gong practitioners was exposed that many Falun Gong practitioners who were illegally detained in the labour camps realized what was taking place: the reason why only Falun Gong practitioners were taken for blood tests and physicals was to establish a database for organ harvesting.
Ms. Zhou Lei, editor of The Epoch Times European edition in Germany, told the seminar audience about the media control system in China. She also discussed the tide of withdrawals from the CCP that is happening in China since the publication of Nine Commentaries on the Communist Party by The Epoch Times.

Human rights lawyer Guo Guoting, a refugee from China living in Canada, recounted his experience of being persecuted many times in China, from the time he was twelve years old until 2004. After he became a lawyer, he defended Falun Gong practitioners who were being persecuted by the CCP. He was then arrested and forced to shut down his law office. Finally, he had to leave China and seek asylum in another country. Lawyer Guo said, "There is no law and justice in China. The judicial system is very corrupt. If a lawyer wants to have a career there and earn money, he or she must cooperate with the CCP and operate against their conscience."

According to Guo, there are a total of twelve lawyers who have dared to defend Falun Gong practitioners suffering persecution in China. However, these twelve lawyers have themselves been persecuted by the CCP for this. In 2003, Guo Guoting published a series of six articles exposing the CCP's brutal persecution of Falun Gong practitioners. In 2004, he was a defence lawyer for two Falun Gong practitioners. One of these practitioners was severely persecuted and tortured until he was in a vegetative state. He eventually died in January 2007.

On the day of the seminar, Guo was on a hunger strike to support fellow lawyer Gao Zhisheng. Gao Zhisheng is also a human rights lawyer who is currently under persecution by the CCP for defending Falun Gong practitioners. Mr. Guo said, "Seven of us lawyers have kept up a hunger strike relay for the past several years. One person fasts for one day each week. At present, lawyer Gao still has no freedom. I intend to maintain the relay hunger strike to support Gao." Guo Guoting firmly believes that in China, lawyers who refuse to defend Falun Gong practitioners are not genuine human rights lawyers.

When asked by a journalist the reason for holding the seminar, Chairman Lars Hedegaard Jensen responded, "The Beijing Olympics are approaching and we need to understand the human rights situation in this country, with its fast-developing economy. We need to understand whether they are improving their human rights situation, or whether on the contrary, at the same time as rapid economic development, freedom is being suppressed. Knowing that such suppression is still happening, we should decide very carefully whether to attend next year's Olympics."

The prominent Danish newspaper Jyllands-Posten published a lengthy report about the seminar.

You are welcome to print and circulate all articles published on Clearharmony and their content, but please quote the source.