The opening ceremony of the "Truthfulness, Compassion, Tolerance International Art Exhibition" sponsored by Mayor Roland Kern, took place on September 7th 2007 at 7:30pm. Mayor Kern stressed in his opening speech that this incredible exhibition was discussed by the city's officials under the theme "Art is Tolerant" and allowed to proceed by the members.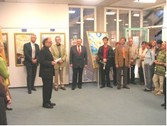 Mayor Kern giving the opening speech.
The exhibition consists of a collection of paintings by internationally recognised artists. All of the artists have one thing in common: they are practitioners of Falun Gong. The moderator, Karsten Noell, board member of Ars Honesta Art and Human Rights Association, stressed that Ars Honesta (Latin for 'truthful art') brought the international art exhibition to Roedermark especially for viewing by the public and with the hope that people will reflect on the inner content of what is being presented. Ars Honesta presented the mayor with a print of one of the paintings. At the same time Mr. Noell explained the deep inner content of the painting.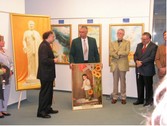 The moderator of the exhibition explains the inner content of the painting "Homeless".
Immediately after this, the moderator introduced the singer Chia-Ning Hsu Reissman, who sang two touching songs in Chinese. Ms. Hsu Reissman translated the song after the presentation for the guests of the private viewing. The song tells of the entanglements in the human world and that it is balanced by retributive actions as ordained by a higher power. The song tells that the enjoyment of fame and wealth only last a short time and that humans should be lucky if they can practise cultivation and step on the path to spiritual enlightenment.

Ms. Hsu Reissman sings for the guests.
The president of Ars Honesta, Volker Dietz, then talked to the guests about the inner content of some of the paintings. He singled out especially the painting titled 'A Tragedy in China":
"One woman cries when standing next to the body of her murdered husband, who was tortured to death during brainwashing. In his hands he holds a document asking him to renounce his faith, and sign it in agreement," said Dietz.
Then Dietz told the audience that even if that victim had signed the document, the persecution of that person would have continued and that also family members suffer from the persecution because of association. Dietz explains further that in Communist China the rule "guilty by association" is practised, which applies to the entire family of a practitioner.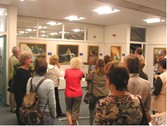 Volker Dietz talks about the painting "A Tragedy in China".

Originally published in German at http://de.clearharmony.net/articles/200709/39693.html
You are welcome to print and circulate all articles published on Clearharmony and their content, but please quote the source.