On June 17th, 2007, the Global Service Centre for Quitting the CCP held a press conference, a rally and a parade in Puli, Nantou, Taiwan to support the 23 million people who have withdrawn from the Chinese Communist Party (CCP) and its affiliated organisations. The Divine Land Marching Band performed at the rally, as did the Qiankun Drummers. Falun Gong practitioners demonstrated the exercises as well.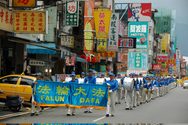 Divine Land Marching Band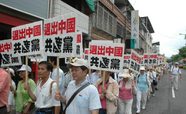 The parade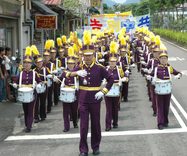 Qiankun Drummers
Professor Liu Chengyi from Chunghsing University spoke at the rally. He condemned the CCP for ruining moral standards, traditional culture and the environment in China. He expressed that 23 million withdrawals from the CCP foretells the inevitable fall of the CCP.

Professor Liu Chengyi from Chunghsing University
Mr. Pan Jianhsun, the representative of Tang Huosheng, the Legislative Member of Nantou, expressed that the world is witnessing the brutality of the CCP, particularly with respect to Falun Gong.
Practitioners re-enacted CCP organ harvesting atrocities, which shocked many spectators.
Professor Hou Nianchu from Asian University in Taichung spoke on behalf of the Service Centre for Quitting the CCP. He expressed that the CCP is the most brutal communist power in the world and volunteers at the service centre have the responsibility to prove the principle that the evil can never triumph over justice.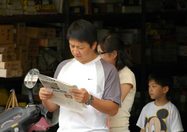 Spectators learn about the movement to quit the CCP
You are welcome to print and circulate all articles published on Clearharmony and their content, but please quote the source.