The Fifth Peru Falun Dafa Cultivation Experience Sharing Conference was held at 4:00 p.m. on May 12nd, 2007, in Lima, the capital of Peru. Practitioners shared their experiences of doing well the three things.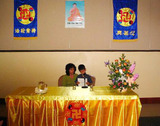 A seven-year-old practitioner shared his cultivation experience in the company of his mother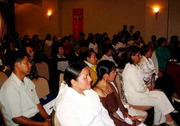 Attendees listened attentively to practitioners' experience sharing
During the sharing, practitioners realised the urgency of saving sentient beings and expressed their firm belief in Master and Dafa. They will put much effort in doing well the three things, constantly let go of their attachments, and fulfill their grand vow of saving sentient beings with a pure mind and righteous thoughts and actions.
All the speakers were Western practitioners. Other than one from Australia, all the others live in Peru. Practitioner Gianfranco is only seven years old. His mother accompanied him to share his experience. He said when he was four years old, he followed his older sister to do the exercises and study Zhuan Falun. He said that he would do as Master says and when he knew that his attachment to playing games was not good, he eliminated it with righteous thoughts.
New practitioner Martha shared her cultivation experience. She said that Falun Dafa changed her life. When her family broke up, she was fired from her job and her livelihood was in question. She went to a park sick at heart. She wanted to learn Yoga to relieve her depression, but that day she only saw Falun Gong - no other exercises were available. So she was sure that a Divine Being led her to choose Falun Gong. Later, her life changed miraculously. She had never expected that her boss would invite her back to her job or that her parents would invite her and her daughter to come live with them. She studied the Fa, did the exercises, and sent forth righteous thoughts, introduced Falun Gong and clarified the facts about Falun Gong. She believes in every word Master says and believes firmly in Dafa.
Martha said when there was a Fa conference in New York in April 2007, she had only an entry visa and not enough money for a round-way ticket, but she still decided to go. When she went to buy her ticket, she was unexpectedly offered a round trip ticket at almost half the price. When she asked for leave from her job and explained the reason for doing so, her boss told her admiringly that she was so fortunate to be able to attend such a grand conference. Her boss enthusiastically gave her 400 US dollars to show his support and assist with her trip to the Fa conference in New York.
The experience sharing conference concluded at 8:00 p.m.
You are welcome to print and circulate all articles published on Clearharmony and their content, but please quote the source.