At the recent 3rd World Conference Against the Death Penalty held in Paris, current French Minister of Justice Pascal Clement and Minister of Justice during the Mitterrand government Robert Badinter said that the Chinese Communist regime's organ harvesting cannot be condoned and must be stopped.
The Falun Gong group was invited to report on and display photos of the persecution of its members in China at the 3rd World Conference Against the Death Penalty.
During a discussion about France's intention to sign an extradition treaty with China, Tang Hanlong, President of the French Falun Dafa association, asked the former and present Ministers of Justice whether the French government would include any measures to prevent the Chinese regime from extraditing political activists and Falun Gong practitioners.
Robert Badinter replied, "My answer is very clear. It is a common legal principle for France that those being charged for political reasons cannot be extradited."

French Justice Minister Pascal Clement condemns organ harvesting. (Zhang Zicun/The Epoch Times)
In regards to the current investigation charges into organ harvesting of Falun Gong practitioners by the Chinese Communist Party, Badinter said that dealings in organ harvesting is a very serious moral and humane problem, especially those who are harvesting organs from people in China. He stated that harvesting of organs from anybody who is going to be executed cannot be tolerated and must definitely be stopped.
Tang Hanlong asked, "According to statistics, 75% of organs used in transplants in China come from prisoners of conscience. Has France adopted any policies to stop French citizens from going to China for organ transplants that use organs from those murdered by the Chinese Communist Party?"
Current French Minister of Justice Pascal Clement replied, "France cannot tolerate such human organ trafficking with China or any other country even for a second. This must be completely prohibited and is definitely repulsive and shocking."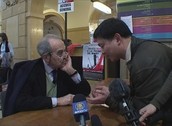 Former Justice Minister Robert Badinter speaks with Tang Hanlong (Zhang Zicun/The Epoch Times)
You are welcome to print and circulate all articles published on Clearharmony and their content, but please quote the source.