On the 21st and 22nd of October, a seminar and an exhibition in the name of the World Uniting Show was held in the People's Hall of Orebro, Sweden. The show's participants were the Orebro ABF Organisation, the Association for Supporting Human Rights in China, the Swedish Falun Gong Association and the Youth Association of the Red Cross.
The Falun Gong stall was eye-catching and near the stage. People approached the stall to learn about the persecution of Falun Gong in China and also about the Falun Gong practice. When they heard about how the Chinese Communist Party (CCP) has harvested organs from living practitioners to sell for vast profits, they signed a petition calling for an end to the CCP's persecution.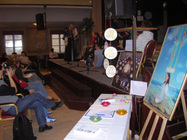 When Falun Gong practitioners were demonstrating the exercises, people came to find out more
At noon on the 21st of October, the Association for Supporting Human Rights in China held a seminar. Two members of the Association stated that the CCP has imposed a series of human rights calamities on the Chinese people since it came into power. They quoted some sections of a 2006 report by Canadians David Matas and David Kilgour, which discusses evidence that the CCP has harvested Falun Gong practitioners' organs and sold them for profit.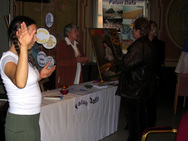 The seminar on human rights in China
During the discussion, a Christian who escaped from China revealed the suffering of Christians at the hands of the CCP. He discussed how Churches controlled by CCP authorities are used as a political tool of the Communist Party. If Christians voluntarily hold their own faith activities, they will be cruelly suppressed by the CCP.
After hearing how the CCP removes organs from live persons, a gentleman showed great concern over what the Swedish government should do about it. Some people asked why so many people in China persist in cultivating Falun Gong, even with such an inhuman suppression going on. A practitioner who was tortured in a labour camp in China told the participants about the benefits many people have received from practising Falun Gong, and why one hundred million people live by the principles of Truthfulness, Compassion and Tolerance.
You are welcome to print and circulate all articles published on Clearharmony and their content, but please quote the source.