During a health tradeshow in one of the large shopping centres in Bremen, on October 9th -14th, 2006, German Falun Gong practitioners introduced the benefits of Falun Dafa, most importantly its outstanding effect on human health.
Over the past years, many people who live in the West have learned about qigong in private classes. This week, however, they learned about an exercise practice that is distinctively different from the well-known qigong schools.
Falun Gong is an ancient orthodox practice of the Buddha School of a much higher level than the aforementioned qigong schools. Everyone can practice it free of charge, it does not require membership to practice it and asks for no commitment. There is no hierarchical structure and no rituals need to be practised. Everyone who is interested to learn is welcome to learn the exercises and the principles that are the basis of this practice. Everyone may join an exercise group or practise it at home.
A veteran Falun Gong practitioner practised from two to three hours daily during all three days of the health show. He especially pointed to the distinctive features of the five easy-to-learn exercises and spoke of the positive effect on health and well-being. At times one feels the improvement deeply, such as when stress is relieved, from improved sleep patterns and by moving with less effort and increased vigor. In addition, one will develop a happier disposition.


The organiser of the presentation introduced to the audience the distinctive features and principles of Falun Gong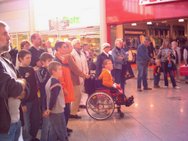 The audience showed great interest
A practitioner pointed more than once to the interrelationship between body and mind and the importance of 'mind nature'. Based on the aforementioned, the healing powers of this exercise practice reaches the whole of the body if one lives in harmony with the cosmic principles Zhen, Shan, Ren – Truthfulness, Compassion and Forbearance.
Before the persecution of Falun Dafa began in 1999, China had already discovered through a number of studies the amazing healing power of this practice. Alas, the seven year long constant slander and persecution of Falun Dafa in China has suspended any further studies of this practice.
In the interim, a book entitled "Life And Hope Renewed – The Healing Power of Falun Dafa" was published that tells of individual health betterment of Falun Gong practitioners. It is in the process of being translated into German. The authors chose 48 stories among hundreds of personal accounts. These are all first-hand stories and tell how practitioners of Falun Dafa achieved amazing health improvement, even some who had suffered serious and life threatening illnesses.
Life and Hope Renewed - The Healing Power of Falun Dafa" may be downloaded at http://clearwisdom.net/emh/articles/2005/4/3/59184.html
It can be ordered through the website: sales@truegoodbooks.com, (ISBN:1-59068-902-2)
Originally published in German at: http://clearharmony.de/articles/200610/34530.html
You are welcome to print and circulate all articles published on Clearharmony and their content, but please quote the source.