The Swedish Falun Dafa Association filed a criminal complaint against Chinese Minister of Commerce Bo Xilai during his visit to Sweden on September 15th. The complaint accused him of the murder, torture and abduction of Falun Gong practitioners in China, in accordance to Swedish national laws and the United Nation Convention against torture.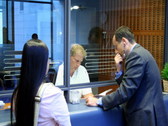 Swedish practitioners filed the complaint on September 15th
Bo Xilai was the Mayor of Dalian when the Chinese communist regime started the persecution of Falun Gong in 1999. He later became governor of Liaoning Province from 2001 to 2004. He participated actively in the persecution of Falun Gong during his time of duty in the region, causing the deaths of 357 practitioners in the province. The notorious female forced labour camp called Masanjia is located in Liaoning province.
"We want the Swedish police to bring him in for interrogation immediately," said Vasilios Zoupounidis, representing Falun Gong practitioners in Sweden, after he had filed the complaint at the Norrmalm Police Station.
The complaint was immediately forwarded to the chief prosecutor Thomas Häggström at the International Prosecutors Office in Stockholm. "I have spoken to the prosecutor. He said that he is considering the issue of immunity at the moment," said Zoupounidis.
Complaints have been filed against Bo Xilai in 9 countries, including UK, USA, Spain and Finland.
In 2001, State Senator John J. Cullerton of Illinois Legislature issued a Proclamation condemning the criminal offences of Masanjia Labour Camp, calling it "a living hell on earth".
The Swedish Penalty Code allows Swedish courts to judge crimes that carry a minimum penalty level of four years, regardless of the country of the crime, the offender's nationality or the victim's nationality, according to Peter Bergquist, Swedish human rights lawyer who was involved attempts to extradite Pinochet to Sweden in 1998.
You are welcome to print and circulate all articles published on Clearharmony and their content, but please quote the source.