July 20th, 1999, was the day when the Chinese Communist regime, under orders from Jiang Zemin, began its persecution of Falun Gong . On the afternoon of July 14th, 2006, many people visited practitioners' information booth. The town was packed with people, because of the looming "Love-Parade."
Although it was quite noisy at the Breitscheidplatz in Berlin's town centre, practitioners' slow and harmonious exercise movements, exuding peace and tranquility, impressed passing shoppers. Many passersby stopped and watched the scene for a long time. There also were excellent and intense discussions between practitioners and passers-by. The time just flew by.
On Saturday July 15th, 2006, practitioners met early in the morning at the Breitscheidplatz to organise everything for the activities and the planned re-enactments of the torture methods and organ harvesting scenes.


Around 11am, the announcement began. After a short introduction by a practitioner, Mr. David Kilgour, the former Canadian secretary of state, responsible for the Asian and Pacific region, gave a speech. Mr. Kilgour and the Canadian human rights attorney David Matas committed to begin an investigation in China since the day the organ harvesting from living Falun Gong practitioners was made known. In his speech, Mr. Kilgour emphasised the importance of an end to the persecution, the likes of which has never been seen in history. He also made it known that today's German regime is more committed to address human rights issues compared to when Chancellor Schröder was in power.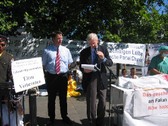 David Kilgour addresses organ harvesting
He praised the efforts by Federal Chancellor Merkel in China. He also held discussions at the German Ministry of Foreign Affairs about the persecution of Falun Gong. Regrettably, Mr. Kilgour had only a short time to visit German authorities. He will also visit other European cities, where he will plead for an investigation into the incidence concerning Falun Gong in China.
Following Mr. Kilgour's speech, Mr. Hubert Körper from the International Society for Human Rights (ISHR) talked about the ongoing persecution in China, including organ harvesting from Falun Gong practitioners. He called on all people to rally against this unconscionable persecution and to show their support by signing the petition that is being handed around.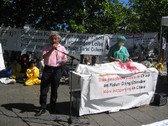 Mr. Hubert Körper from the ISHR gives a speech
Then, two young female Chinese Falun Gong practitioners spoke of brutal experiences during their imprisonment in China. Both study here and have a good command of German. Ms. Xiong Wei and Ms. Liu Wei reside now in Germany, after having gone through terrible experiences in China. They spoke in great detail about the brutal torture methods they had to suffer, for no more than distributing flyers about the persecution of Falun Gong. Ms. Liu Wei said that she narrowly escaped organ harvesting, the news of which has been brought to the public recently. She was subjected to all tests required for an organ transplant.
After the rally, many Falun Gong practitioners took part in a parade that weaved its way through downtown Berlin. This parade was an effort to have more people hear about the persecution and especially about the murder of Chinese Falun Gong practitioners from organ harvesting.
At the information booth, which did not lack visitors until the evening, many passers-by signed the petition that called for an immediate end to the persecution and organ harvesting. The signature list will be turned over to the German authorities.
The re-enactment of torture methods was in stark contrast to the peaceful Falun Gong exercises that were demonstrated continuously. People watched for long periods of time.
One practitioner told us that one passerby stopped by the booth, holding her bike, so she could also get some leaflets. Then she left, but soon returned and said, "I thought I loved animals, but now I realised that I really love people." Then, she told us that she was a Yoga teacher and was very interested in the Falun Gong exercises.
It is impossible for me to talk about all my impressions and experiences of those three days. But, most of the people were deeply shocked and all hope for an immediate end to the persecution.
Originally published in German at: http://www.clearharmony.de/articles/200607/32650.html
You are welcome to print and circulate all articles published on Clearharmony and their content, but please quote the source.