Falun Dafa practitioner Ms. Yang Hailing was from Jixi City in Heilongjiang Province. Since being arrested on April 25th, 2002 in Mishan City, she suffered tortures such as pricking needles into her head, arms and hands, smearing mustard into her eyes and handcuffing her hands behind her back. Ms. Yang passed away on April 12th, 2003, after suffering inhuman tortures at the hands of detention centre guard Ma Baosheng in the Mishan City No. 1 Detention Centre. More details follow.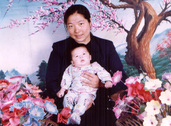 Ms. Yang Hailing was 34 years old and lived in the Donghai Mining Area in Chengzihe District, Jixi City, Heilongjiang Province. Ms. Yang started practising Falun Dafa in 1997. She was arrested in the afternoon of April 25th, 2002 at the Mishan City Textile Factory. The police interrogated her that night and brutally tortured her. She could not stand on her own afterward and was carried to a police car. The next day, police officers Ju Hongjun and Liu Xiaohu went to the detention centre to interrogate her again. That is when they pricked her head, body and arms with sewing needles. The police had tortured another practitioner Wang Yan the same way. They said this would not leave any bruises on the body. Three other police agents repeated this gross abuse on that day, pricking her from head to toe.
Two months later, in June 2002, Political and Security Section heads Meng Qingqi and Du Yongshan from the City Police Department went to the detention centre to interrogate Ms. Yang Hailing again and tortured her ruthlessly.
1. They handcuffed Ms. Yang from behind and smeared mustard into her nose and eyes. They beat her with their fists, batons, bottles, metal tools and other instruments. The police handcuffed her with two sets of cuffs, one set on her wrists and another set on her forearms. The handcuffs were so tight that they cut deeply into her flesh, and the arms turned black and swollen, yet the police squeezed books between her cuffed arms and her back to make her suffer more.
2. The police hung her up by her cuffed hands behind the back, dangling her from a wall with chains. They also forced her to raise her bottom high with the head pushed down. After one day of such torture, Ms. Yang suffered torn muscles and could not walk on her own. She was carried back to her cell.
Two months later, in August 2002, five other Dafa practitioners were sent from the detention centre to a labour camp, but the labour camp refused to accept them. Under such circumstances these practitioners should be released, yet the detention centre continued to imprison them. On October 14th, 2002, Ms. Yang Hailing and ten other practitioners went on a hunger strike, requesting unconditional release. The guards force-fed them. By November 1st, Ms. Yang was in critical condition and sent to the city hospital for emergency treatment. However, after being sent back to the detention centre on November 9, she suffered further persecution.
On April 11th, 2003, Ms. Yang Hailing and three fellow practitioners were doing the Falun Gong exercises in the cell. The detention centre director Ma Baosheng rushed into the cell with some guards and male prisoners to beat them. Ma Baosheng grabbed Ms. Yang's hair and threw her onto the floor. Ms. Yang fainted immediately. By noon of the next day, Ms. Yang's cellmates noticed Ms. Yang had difficulty breathing and requested to treat her immediately, yet Ma Baosheng ignored the request. Ms. Yang stopped breathing at 1:20 p.m.
When Ma Baosheng learned of Ms. Yang's death, he immediately blocked the news and stopped everyone from approaching Ms. Yang's body. He sent Ms. Yang's body to the Mishan City Hospital, where the doctor pretended to check Ms. Yang and said that Ms. Yang died of heart failure. That afternoon, Ma Baosheng instructed guards to stop anyone from approaching Ms. Yang's remains and notified Ms. Yang's family that she passed away from heart failure and to handle her affairs.
| | |
| --- | --- |
| | |
| The bruises on Ms. Yang's remains | |
Ms. Yang's family members were shocked upon seeing her remains. She was healthy before her arrest, but her body was emaciated and disfigured. Her husband fainted several times from grief. Ms. Yang's parents had previously requested to visit their daughter many times, but Ma Baosheng never gave permission. The death of their daughter shocked the parents so badly that they lost consciousness. Ms. Yang's child cried terribly while clutching her body.
When discussing with Ma Baosheng how to handle the funeral, Ms. Yang's family requested to meet with Ms. Yang's cellmates to see if she had any personal belongings or dying words to pass along. Afraid of leaking the truth, Ma Baosheng refused their request immediately, "No, her cellmates will be sent away tomorrow."
The family requested an autopsy to find out the real cause of Ms. Yang's death and pointed out that the detention centre might be responsible for her death. At first Ma Baosheng said it would take 2,000 yuan1 for an autopsy and the family had to pay the cost, but later he said it would not cost that much. The hospital colluded with Ma Baosheng and refused to perform the autopsy because the family would find out that the certificate stating Ms. Yang died from heart failure was falsified. Ma Baosheng suggested cremating Ms. Yang's remains immediately and the detention centre would bear the costs. The family felt it was unfair to agree to cremation before finding the real cause of death following the appropriate legal procedures.
Ma Baosheng clearly knew that the detention centre and related persons are legally responsible for a prisoner's death, but he persistently refused the request from Ms. Yang's family. Realising it will be extremely difficult to find the truth, the family reluctantly accepted Ma Baosheng's proposal.
Note
1. "Yuan" is the Chinese currency; 500 yuan is equal to the average monthly income of an urban worker in China.

Chinese version available at http://www.minghui.ca/mh/articles/2004/11/30/90383.html
You are welcome to print and circulate all articles published on Clearharmony and their content, but please quote the source.