On June 26th and 28th, Colorado Radio KHOW 630AM and PBS TV KBDI interviewed practitioners Wenyi Wang and Charles Lee.
Dr. Wenyi Wang cried out during Chinese communist leader Hu Jintao's visit to White House, urging him to stop the persecution. Charles Lee was illegally imprisoned for 3 years in China for his efforts to end the persecution. Lee, a normalised US citizen, returned to the U.S. immediately after his release this past January.
Both hosts asked what Falun Gong is and why Wenyi Wang shouted at Hu Jintao. Dr. Wang explained that Falun Gong is a practice based on "Truthfulness, Compassion and Forbearance" and explained about how the Chinese Communist regime has been brutally persecuting practitioners in order to coerce them to give up their belief. Dr. Wang emphasised the recently revealed atrocities of harvesting organs from Falun Gong practitioners for profit.
Charles Lee testified how the regime brutally persecutes practitioners. Taking the opportunity, he introduced the Nine Commentaries on the Communist Party which for the very first time systematically documented the killing and criminal history of the communist party.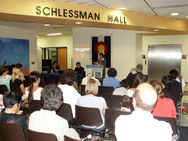 Falun Gong practitioners revealed the Chinese Communist Regime's brutal persecution during a seminar
To let more Colorado people learn about the Chinese Communist regime's crimes committed during the persecution, during the evening of June 27th, practitioners organised a seminar at the Colorado History Museum in downtown Denver. A senior officer from Congressman Tom Tancredo's office, several Denver city government officials and some leaders and members of local groups attended the seminar. Below is the letter Congressman Tom Tancredo wrote to the seminar.
HOUSE OF REPRESENTATIVES
WASHINGTON, D.C. 20515
June 27th, 2006
Dr. Wenyi Wang, M.D., Ph.D
Dr. Charles Lee M.D. and
Falun Gong Practitioners
Dear Dr. Wang, Dr. Lee and Falun Gong Members:
I apologize that I cannot be there in person to welcome you. Unfortunately, my official duties require me to be here in Washington.
Like you, I am very concerned about reports of forced organ harvesting in China. And I know you have been very outspoken - so outspoken that people like Dr. Wang was escorted off of the South Lawn of the White House during a state visit by the Chinese leader.
I share your desire for a pluralistic, peaceful, and open China. I believe that through participation in forums like these, and continued efforts to share information about what is going on in China, you will help to bring that goal closer.
Again, I apologize that I could not be with you today.
Sincerely,
Tom Tancredo
Member of Congress
You are welcome to print and circulate all articles published on Clearharmony and their content, but please quote the source.