Two exhibits of Chinese art open at the Congress Centre. One, a stunning collection owned by a Falun Gong practitioner and the other a collection of work by followers of the [persecuted] spiritual practice. Joel Kom reports.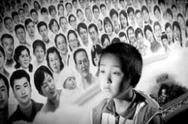 Falun Gong Exhibit Opens: Patrick Li, 9, attended the opening of Uncompromising Courage, an exhibit at the Congress Centre this week that features art by Falun Gong practitioners and is inspired by some of the artists' own experiences. The painting above was done in remembrance of some of the hundreds of Falun Gong practitioners known to have died under the Chinese government's ban of the spiritual practice. Featuring 40 paintings, the exhibit has shown in Toronto, New York City, Washington, D.C., Indonesia, and South Korea.
The barriers dividing the large room are like a great wall separating two of China's many faces.
On one side of the room, a woman's portrait -- likely worth more than $1 million -- hangs on the wall alongside other symbols of China's rich art history.
On the other side sits a graphic painting of a man being tortured with an iron and a cigarette, a trademark of some of the oppression marking modern-day China.
Yet despite the stark differences between the two sides they are united by one influence: Falun Gong, also known as Falun Dafa, the spiritual practice banned by the Chinese government in 1999 and the frequent focus of protests on Parliament Hill.
The torture scene is part of an exhibition of art done by Falun Gong practitioners, while the million-dollar portrait is part of a collection that's only on display because its owner says she was saved by the practice eight years ago.
The paintings are some of the approximately 100 pieces of art making up two exhibitions at the Congress Centre this week. The shows launched yesterday and will be in Ottawa until Tuesday.
The private collection, owned by Chinese natives Mei-Ling Dai and her son Tony, is valued in the tens of millions of dollars and features works by some of China's most famous artists. The woman's portrait by Zhang Dhaqian, known as "China's Picasso," is similar to another painting of his that recently sold for more than $1 million U.S. at an auction.
Mrs. Dai, who moved her family to Australia in 1989, says she survived what was deemed a terminal illness after she was introduced to Falun Gong. That prompted her to share her art collection, which was first started by ancestors who held government positions in the Qing Dynasty 100 years ago.
The collection survived the massive state destruction of art in China's Cultural Revolution but was kept private until Mrs. Dai's recovery.
"I was going to die in an Australian hospital," she said yesterday. "Falun Gong gave me a second life."
For others, though, Falun Gong sent them to prison where some supporters say they were tortured. (*) That led to the Uncompromising Courage exhibition that sits next to Mrs. Dai's paintings and features work done by Falun Gong practitioners.
Beside the torture scenes, some of which are inspired by some of the artists' own experiences, there are paintings of [resistance] and spiritual hope. There are several works by KunLun Zhang, an Ottawa resident who was released from a Chinese labour camp in 2001 thanks to international pressure -- much of it Canadian -- on the Chinese government.
Kathy Gillis, an Ottawa art teacher and the only Westerner to have works included in the exhibition, said the paintings are meant to show what Falun Gong supporters have endured.
"When I saw the strength of character they personified, I started making a series of paintings about that," Ms. Gillis said.
Her pictures have travelled with the exhibition for the past two years, with stops in Indonesia, the U.S. and South Korea.
[...]
(*) The former leader of the Chinese Communist Party, Jiang Zemin illegally banned the practice in July 1999. Since then, hundreds of thousands of practitioners have been arrested, tortured, sent to labor camps without trial, and to date, 2,733 are verified to have died, although the actual number is believed to be much higher.

You are welcome to print and circulate all articles published on Clearharmony and their content, but please quote the source.