On the afternoon of the 23rd of July 2005, practitioners in St. Petersburg once again held a rally in the city centre. Through demonstrating the exercises, displaying a picture exhibition to expose the torture, distributing leaflets and talking to citizens and tourists, practitioners called on the public to lend a hand and help stop the persecution.
On the 20th of July 1999, the Chinese Communist Party (CCP), headed by former communist leader Jiang Zemin, started the inhumane persecution of millions of Falun Gong practitioners in Mainland China. In the six years that followed, Russian practitioners, just like Falun Gong practitioners everywhere else around the world, told the people and the government the truth of the persecution with peace, rationality and uncompromising courage. This has helped a large amount of the Russian population wake up from the venom of the evil CCP's lies.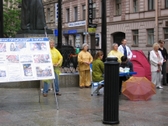 In the last few years, St. Petersburg Falun Gong practitioners held all kinds of activities in busy parts of the town almost at every weekend. This weekend also marked six years since the persecution against Falun Gong began. For this particular occasion, everyone specially designed and printed flyers to expose and condemn the CCP's persecution of Falun Gong while calling for help to put an end to the persecution. Most of the people passing by received leaflets.
Many people signed the petition to support the anti-persecution campaign. A Finnish lady here as a tourist, stopped before the display boards and started reading them. When she found out through her daughter who could speak Russian that it was indeed a Falun Gong practitioners' activity she was surprised and glad, and said:" In Finland we also have Falun Gong!" Before she left, she hugged practitioners in farewell and said: "I hope you will come through! Good luck!"
You are welcome to print and circulate all articles published on Clearharmony and their content, but please quote the source.