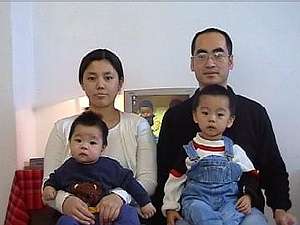 Guo Rui, Jiang Renzheng and their two children
On the 9th of April, Falun Gong practitioners from the Ruhr district in Germany handed a letter to Mr. Schroeder, the German Premier, during an election activity. The letter called for the German Government to pay attention to the deportation of Jiang Renzheng, his wife Guo Rui and their two young children. After being sent back from Germany, Jiang Renzheng was taken away by the police on 8th April from his wife's family home in Shenyang and was sentenced to forced labour for three years on that day. He is now detained in Liaoning Benxi Forced Labour Camp.
At 2 pm on 9th April, when people came to Dortmund to take part in the election activities, the first thing they saw as they stepped out of the station were the huge displays set up by Falun Gong practitioners. Big letters read "SOS" and made many people slow down and find out more. When they had finally stopped and looked closely at the photos on the display boards, they were astounded by the great contrast: on one side there was a picture of the peaceful Falun Gong exercises while the other side showed bodies that had been tortured until they were bruised black and blue. A large number of people received leaflets and little paper lotus flowers which practitioners had carefully produced.
When the German Premier reached the scene of the activity in the afternoon and shook hands with different people, Falun Gong practitioners handed him the letter and a little paper lotus flower. His retinue took them on his behalf.
The letter referred to a Chinese student who is currently studying in Dortmund. Two years ago, just because a Falun Gong leaflet hidden in her office was discovered, she was jailed in Beijing's Female Forced Labour Camp for sixteen months. During her detention, although she didn't suffer persecution as severely as other Falun Gong practitioners did, the mental torments she endured wiped her memory clean of the foreign languages she had learned. She even found it difficult to speak Chinese after her release.
The letter of appeal mentioned Jiang Rengzheng and Guo Rui's deportation back to China after being refused refugee status in March. The couple are new practitioners of Falun Gong who started practising in Germany after the persecution had already begun. The German Government wasn't convinced that they would be persecuted if they went back to China. After being repatriated back to China, Jiang and his family were interrogated and threatened by the National Security Bureau on several occasions. The bureau found out that Jiang attended Falun Gong activities overseas. On 8th April, when the family went to visit Guo Rui's parents in Shenyang, he was taken away by the Benxi police, and was sentenced to three years forced labour for "having contacts with the Falun Gong organisation and damaging social order."
A happy family in Germany
Jiang Renzheng's wife was very puzzled by this incident. During the first month of going back to China they looked for a house, looked for jobs and looked after two children younger than three. How did they damage social order? Her family was also furious about this incident.
The German Falun Gong Information Centre disclosed that practitioners are now actively informing the German authorities, politicians, media and human rights organisation about the situation of Jiang's family. On the one hand they are appealing to the German Government to rescue the family, while on the other hand they want to help the public masses in a democratic country to understand, through this case, the situation under the Communist Party's autocratic and totalitarian dominance, where there is no freedom of belief or human rights.
You are welcome to print and circulate all articles published on Clearharmony and their content, but please quote the source.